Installing Windows and Trim

Now that my wallpaper is done, it's time to install the interior windows, and I use white glue (Elmers) only when gluing in windows. Of course, I have to use my special handy dandy weights for that ....
I'm probably going to leave a lot of the outside trim off the house, mostly because I don't think it will go well with the brick. Here's what the outside of the windows are going to look like.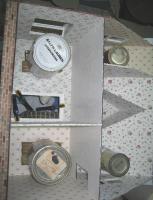 Compliments of LPCullen
---