Fender Bender?

I wanted to create a fender for those front wheels on the Summerhouse. I spent some time looking at fenders online and while my DH and I were out riding around on the weekend, I noticed some fenders on utitlity trailers that I liked. Didn't get a chance until today to try out my plan. First I fiddled around with a paper pattern until I got a shape I thought would work.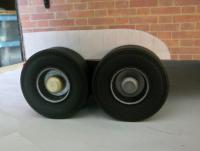 I had purchased some 1/16 basswood the other day just for this so got out my utility knife and cut the shape out very carefully.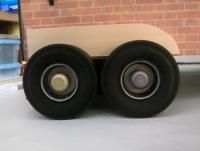 Cutting the piece on the outside edge of the fender was a little trickier, but I did manage to cut it out without doing any personal injury....always a good thing! LOL! I glued the top of the fender to the straight part first and let it dry, also the small curved piece on the front edge.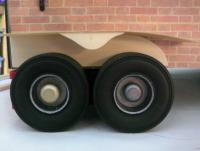 After the glue was dry, I bent the wood around that curve and superglued it.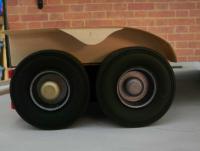 I made sure the Captain wasn't around and added my bling aka rivets!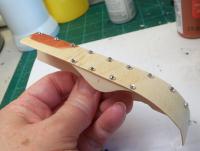 I put the first coat of paint on and thought maybe that was the end of it....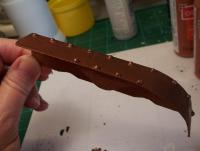 But when I went back to check on it, the front edge had started to ripple....since the paint was dry to the touch, I clamped a couple of pieces of wood on either side and will leave it overnight in hopes of flattening it out. Otherwise, either the Captain had a fender bender last time he was out in it or I'm going to have to start over! Won't worry too much about it until I unclamp it and see how it looks. I tried putting brick paper on the back of the house while the wheels were off and it ended up crooked! So that came off and I am waiting until I feel more amiable towards the brick paper. Still really hot and humid here, I'm beginning to feel refrigerated....have a great day all!
---