Fenders and Company!I

I took the fender out of the clamps, actually clothespins, and most of the ripples had settled down. I was glad about that as I really didn't want to have to make another fender. I put on two coats of matte finish and let it dry.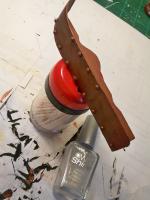 I did have more trouble with the rippling so had to put it back in the clamps for awhile. Note to self, use wax paper next time as the pieces of wood I used to clamp with stuck to the finish and I had to do part of it over! But, it was finished at last and glued in place.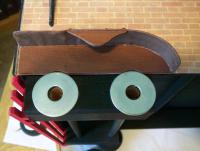 If you're wondering what the washers are for, they are so the wheels don't rub on the house when in motion. I ended up glueing them on the back of the tires too and think I will used some silicone lubricant on them before I glue the axles in place. Of course, I had to try out the wheels to see how it would look!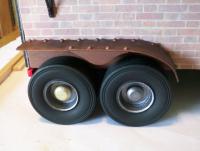 So while I was busy with this project, I had minions roaming around my shop looking for something to do. Since it's been in the 90's with 90 percent humidity, they can't go outside as they would quickly be just another grease spot on the sidewalk! One of them found the helmet I made for the steampunk robot awhile back and declared himself a Viking!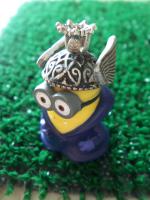 I just remembered that I have a Viking-looking hammer around somewhere, I'll have to look around for it. Don't worry, it's plastic and is a very small hammer! LOL! Next he'll want a ship too...I must have a tiny rowboat somewhere......When I was almost finished with the fender, Dr. Watson came by. Sherlock is a friend of the Steampunk family and he heard about the telescope and told the good doctor. Since he is an amateur astonomer, he was excited to try it out. I helped him onto the porch roof and he spent quite awhile gazing up at the sky. At least I think he was gazing at the sky....I'm beginning to think he was looking at the lady in the McKinley room box too! LOL!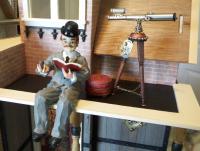 I asked him if he would do the trim on the porch while he was up there and he just laughed and said "I'm an astronomer not a carpenter!" Very funny Bones......Have a great evening all!
---