The Roof and Vikings!

I decided today was the day to try out the copper color on the roof. In my gallery is a how-to on doing a verdigris roof treatment. It's a good thing I wrote it all down as I would have forgotten it all! LOL! Before I did the whole roof, I wanted to try this out on the smaller roof section to see how it was going to look. I started by putting on a coat of Metallic Bronze by Craftsmart.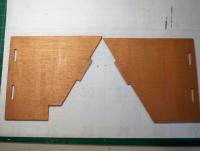 I thought I did a major oopsie for a minute as I was going to glue strips on the roof before painting. Then I realized without the strips, I'd be able to sand the first coat smooth. Serendipitous for sure! I cut 1/4 inch strips from thin cardboard and glued them down.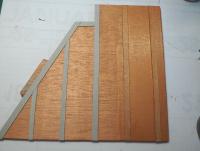 After a couple more coats of the Bronze, these pieces were set aside to dry overnight.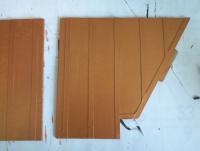 Really like how this is looking and found I can arrange the cardboard strips to hide any gaps here and there. I've been working on a ridge cap that I hope is not too over the top...just not sure how to paint it yet. Mulling this over.
The Viking hammer was also found and I had one happy Minion! Then I found a small boat in my stash and he was tickled pink!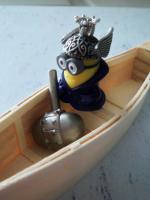 As you can imagine, it didn't take long before all this joy was noticed by the other minions. Before I knew it, they were all on board and singing Viking songs at the top of their lungs!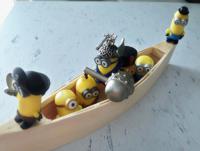 I think they were Viking songs.....although I did catch a "banana" somewhere in the song and when "underwear" came out, I thought they were all going to fall out of the boat they were laughing so hard. I don't know what it is with these guys and underwear....So we are a happy group all together in the shop for sure! Have a great day all!
P.S. Just noticed there are only seven in the boat....I hope no one fell overboard! Maybe he took the dirt bike out for a spin.....
---