Preparing Exterior Entry posted by Guest ·
501 views
First, Jimmy drew some lines on the house. He wanted the house to appear that it was made out of boards. For the exterior of the house, he used a piece of siding from another house as a guide and drew some lines using a pencil.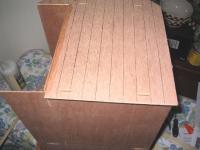 Then Jimmy used a smaller board to draw lines on the first floor room floors, and also on the front porch.
Now it's my turn, and I wanted to make sure that the wood was sealed and wouldn't warp when I got ready to do some color washing to age the house, so the first thing I did was stain the house on the exterior, for the simple reason that Minwax stain is also a sealer. Plus, the stain of the wood added to the tone of the color wash, or so I thought.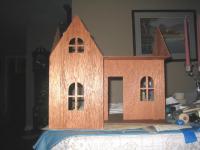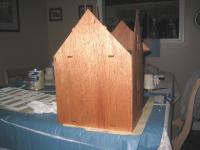 Compliments of LPCullen
---