 This is what the house looked like before the Thanksgiving weekend.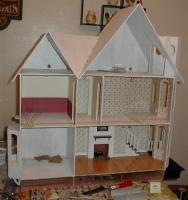 We've textured the tower and bay and added siding to the remaining outside of the house.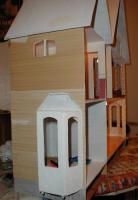 Add a little paint to give the house some color, so it won't disappear against the wall. It's going to be a medium gray with white and dark gray trim colors.
The bay roof has been covered with copper sheeting. This will be "aged" to give it the natural copper patina. That will take a few days. And about twenty or so sponged on applications of our "aging" compound.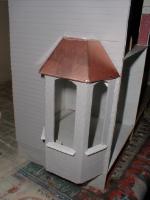 While we were working on the siding on the porch side of the house we added a light above the door. There will be a little mini tutorial on this installation as well as another on a "battle" I had with one of the interior lights that decided it could not make up it's mind if it wanted to light or not depending upon it's mood. So you can see some "surgery" and my basic repair methods. (not for the squeamish) LOL!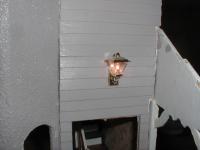 Then we added some planks to give the porch a flooring more to our liking. These will be aged a bit too with a wash.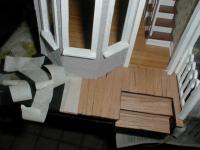 Here's the interior view of the living room. Flooring, wallpaper, stairs, baseboard and crown molding are installed. Still needs windows, door, draperies, and a few other little finishing touches but this is the basic room. The ceiling is a painted textured scrap book paper.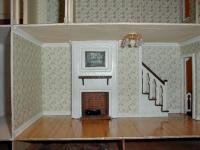 And here's the interior view of the bedroom. We were thinking of adding a closet to the block in the back but haven't finalized our decision on that yet. It also doesn't have windows installed yet. This is the room with the problematic light we mentioned above. Carpeting, wallpaper, baseboard, and crown molding has been installed. The ceiling is textured.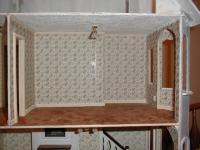 The bathroom is beginning to take on an Art Deco look. Here we've got the wallpaper and are playing with the positions of some of the plumbing fixtures and the ceiling is another textured scrap book paper.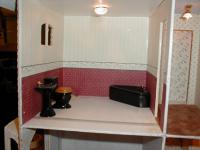 So except for some minor aging of the copper and porch flooring we're kind of at a stand still awaiting the arrival of another order. We still aren't sure what to do about the kitchen but have a plan and aren't sure if it is going to work because our purchase from eBay on the 18th of last month seems to NOT be arriving. Going to have to start some sort of proceeding to see if we can get that resolved. The attic space is totally up in the air. (in more ways than one. LOL!) Our original plan isn't going to work on this house because it just isn't deep enough for what we wanted to put in it. And we're still deciding things about the windows but have a nice stained glass for the first floor living room windows in the bay and the door. We're also awaiting some flooring material from HBS for the bathroom. We have some for the kitchen but Darrell won't let Melissa put anything in there until he gets cabinets in and knows where all the wiring will go. Compliments of DarrellandMelissa