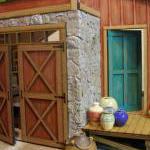 First of all, let me introduce Santa. I found him in a gift shop, back in the 75%-off Christmas sale stuff, in a little German-heritage town not far from here. I don't believe he'll live in the mushroom, but he comes by frequently to check on the elves and their progress. Do you think he's carrying a lantern because he doesn't think I'll solve the lighting dilemma? ;)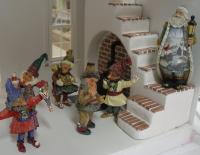 While I was thinking about the lighting, I did some aging on the oven wall. I love these artist colors. I got them on the clearance shelf at Hobby Lobby for about a 10th of the original price. I love 'em!
After I finished the fireplace, I tidied up the work area a bit. Decided to put the fiber optic lights away, as they didn't always come on and I just couldn't figure out what to do with them. When I opened the electrical storage, I found some clear plastic stars -- meant to be mirror hangers -- that gave me an idea. The plastic tubing + the stars + a light . . . well, here is the prototype. I taped a silk flower to the wall behind the star. This is mounted on the first floor wall that I'm not using, just for the sake of experimentation. I can run the wires beneath the house, up through the floor and the tubing, and voila! A sort of sconce. The prototype has already been replaced in my head with something a bit more Christmasy, but this will give you the idea. There will be five sconces around the ground floor -- one of either side of the bay window, one on either side of the front door, and one on the oven wall.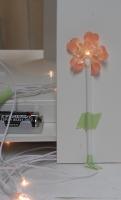 I'm still not sure how to handle the other five lights for the upstairs living area, but there is a place in the oven wall where I can run them through the floor. After solving at least half of the lighting challenge, I gave myself some time to do something easy, so I took some bits of balsa and a stain pen and made this little shelf. It's going to go on the oven wall.
While waiting for the stain to dry so I could glue the shelf, I pulled out some fabric to audition for the ground floor. I thought if the elves are busy making toys, that white floor is going to get pretty grungy in a hurry. Sorry for the blurry picture. I think the camera was still set on macro for the shelf photo. Anyway, I think I'll make a thin cardstock template and use this fabric as a floor covering.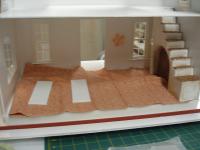 The elves remain nameless, but they don't seem terribly upset my their mini anonymity. (I like the way that sounds when you say it out loud: mini anonymity.) ;)