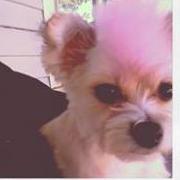 Once you have completed your Layers of branches (I did 7) you will want to place your tree into a container. The instructions call for a box but I used a small terra cotta pot. I want to figure out another alternative to a stand but it has to have stability. The tree is on the heavy side and will topple over if it does not have a stable base.
I warmed some Green Sculpy in my hand and formed a ball. I glued the inside of the pot and pushed the clay inside smoothing out the top. I put glue on the stem of the tree and pushed it into the clay. It is in there for good. LOL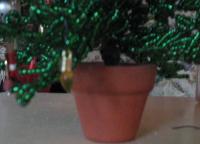 I have started to decorate. I am making little ornaments with seed beads, beads from that package I showed in the top of the tutorial, miniature lights, and miniature candy canes.
I have a ways to go but I thought I would show the progress so far.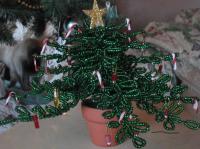 This is my first attempt at this tutorial and I like some things and do not like others. I have followed the directions to the T, but the tree just does not form like I want it to. I will soldier on though. I want to make some modifications for the next tree that I make. I want a better stand that is more realistic, branches that lay better, branches that tier better, and find ways to make nicer ornaments.
You all can see what the results are and can do your own modifications also. That is why I am leaving the instructions as is. You may want to add more layers or delete the layers. Your choice! ;)
Soon I will make a skirt for the tree and lay out the presents.
To be continued....