Painting for my MIL.jpeg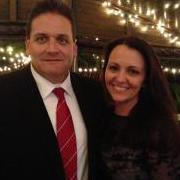 Hubby left for America today, to visit his family. I stayed home as the Aussie dollar (or pacific peso as I like to call it) isn't doing great at the moment, so a trip for both of us would have been just a wee bit too expensive.. especially as we would have to hire a house sitter for the dogs. (And now I can use the house sitting money to buy minis

 ) 
My MIL has shown great interest and fascination for my mini art (unlike my own mother, who upon me showing her some paintings, told me it was a waste of time 

 thanks Mum!) so I decided at the last minute to paint her a mini painting for him to take with him as a gift. I was still finishing off the frame this morning before his flight. Nothing like a master procrastinator cutting it fine.. lol... I hope she likes it.
As I had very little time to produce this I went to my usual painting source and watched a 5 minute speed painting video af an artist painting this in 1:1.  Then I created my own version in mini.

---
User Feedback
There are no reviews to display.