one of a kind 1:24 outdoor house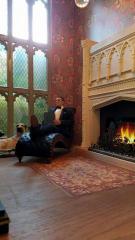 The OOAK G scale building was found on Etsy, [ [ I will post builder name and store later ]  and I love the quality so much he is making me a version of Chavenage House, from Poldark series!!! He felt it would be so big he couldn't ship it but I sent a sketch of the simple recognizable version I would like gave him the measurements and that build is now underway! Which is probably the most exciting part along with the bridge and plants.
Here is the very beginnings of planning the lay out and how much track would be needed. Since there are 2 large boxes on each end with a long skinnier connecting area I decided to make a formal mirrored look, each side matches the other the plants and shrubs will all be placed exactly the same on each side to give a formal garden look. Here is a short run of track for the train to pull off in front of the depot. I told my husband that I don't want a train yard look. but a very professional botanical garden look where the train is a nice surprise weaving in and out of plants trees and shrubs and of course structures!
---
User Feedback
There are no reviews to display.