Day 2: Little Pieces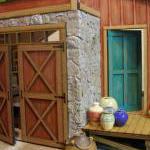 While Mollie was at school today, I sanded and sanded and primed and painted. Have about 2/3 of the little pieces ready to roll. Haven't yet touched the gable and roof gingerbread, but we won't need that for a while.
Whoever suggested spaghetti as spacers for painting, a hearty thank you! It worked very well!
---