Well I needed some sort of roof-ridge caps to cover up those nasty gaps, so I cut something fancy out of thin cardboard (sandpaper packets), with thin strips glued on top for some visual interest: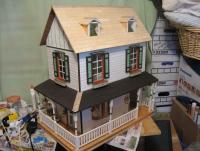 Much better. I was making curtains for all the rooms, and ended up making a two-tone curtain for the parlor which did not quite look right with the upholstered chairs, so of course I had to make new upholstered chairs!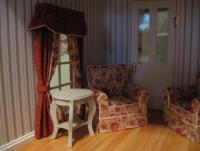 I am in the middle of making a bench for the piano, because it just bothered me too much that it didn't have one, so I bashed Kris' occasional table tut patterns
http://1inchminisbyk...from mat board.
: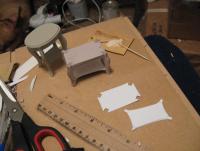 I am waiting for gesso to dry, so I'll post finished pics of it later.
I had put second coats of paint on the shingles (mostly raw umber, with some black, gray, and a bit of metallic copper, and water) and Mod-Podged them, and put acrylic sealer on the painted trim, so I thought this was a good time to take the house outside and get some finished pics: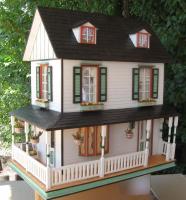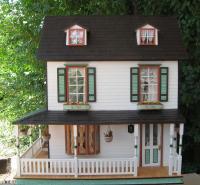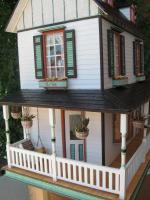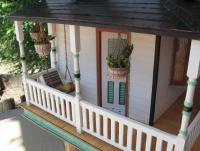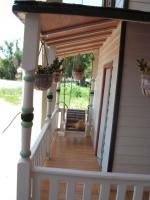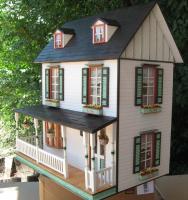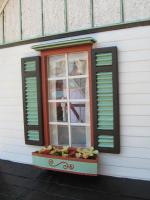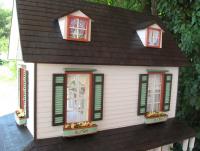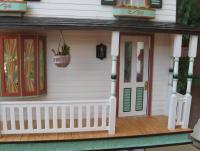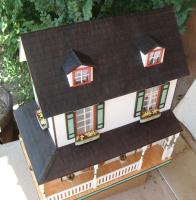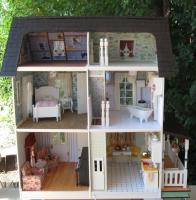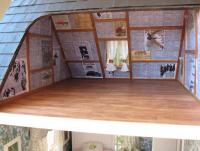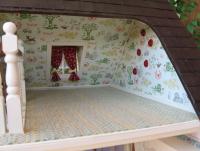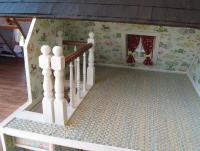 The "carpet" in the attic room is from an upholstery sample that my mother and I found. The ladybugs are there because one of the little girls who will get this house loves ladybugs.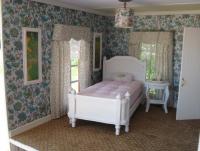 The prints in the bedroom are of some that I found on the internet by Gustav Klimt.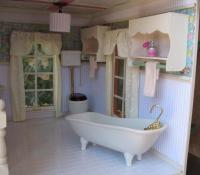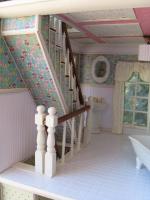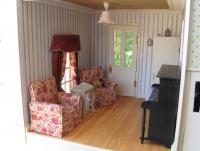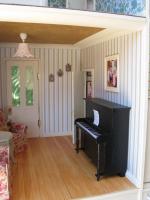 Family portraits in the parlor; the dog is just for staging however-- he won't be going anywhere!
I love that red and cream floral fabric-- my mother found it for me, and it's cotton and fantastic for gluing.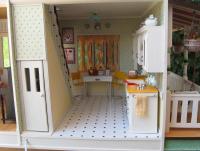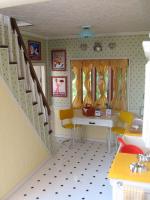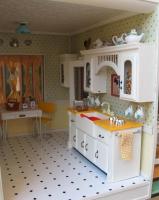 The kitchen has old Hershey's prints because the girls' mother loves Hershey's chocolate. I had seen the cutest little flowers-in-milk-carton kit on Brae's blog
http://www.otterine....ing-days-at-the
, so I found some milk carton printies online, cut 'em up, and glued some flowers into them.
Well this house is ready to pack up, as soon as my piano bench is done! My next project is already here, so I better get to it. 
Edit: forgot to say, that I used matboard strips to trim the roof lines, exposed back edges, and exposed edges of the bases, and I used thin cardboard strips to trim that curvy roof line on the rear. I really liked how that worked; think I'll be using that trick again in the future.