Went down to Joann's the other weekend and found a bunch of goodies, including some upholstery fabrics (= carpet!) on the sale rack: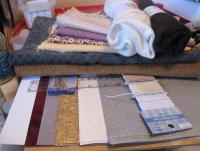 That enabled me to carpet the bedroom and finish out the floor trim. Even though I was trying to be careful ahead of time about the doors getting too tight, the bedroom door is a bit tight over the carpet
. But I think it'll do...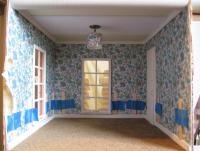 Worked on the understair closet in the kitchen; used pin hinges on an old scrap for a door (that had a couple pieces out of it already, for little windows).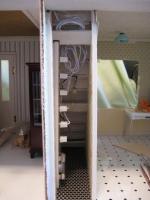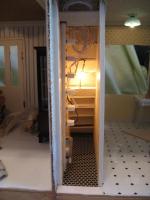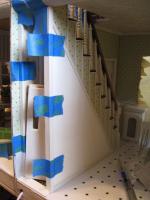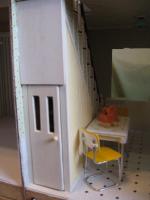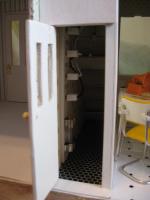 I like it!
Also worked on the siding; slow and careful, which has paid off in only one spot cracking, so much better than the Tennyson siding. About halfway up, I figured that I better see what was going to happen with the porch roofs, and that naturally led into figuring out where to put the porch posts, which led into prepping the posts by figuring out their heights (note that I angled their ends since that's the way the roof pieces sit on them) and locations, which led to drilling holes in the base where the posts will go as well as holes in the posts to put toothpicks to try to make 'em sturdier in their placement. Which all led to cutting apart the kit porch railing pieces since I don't need the post parts of them.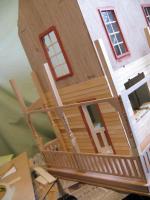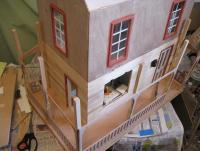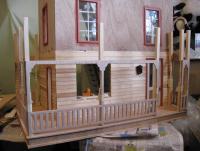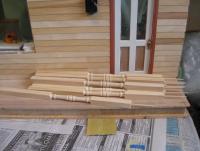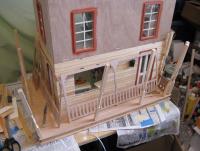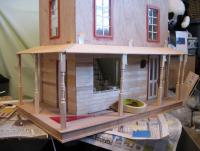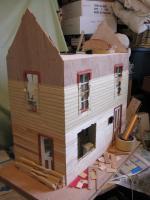 And some exterior paint! (Valspar powder beige.) The reason that the siding stops where it does, is that I ran out of siding!
Being reluctant to get more at this time, I framed out the upper part of the house in raw umber and used paint mixed with sand to fill in; I trimmed the frame with small strips in "Mint Julep Green".
Here I have installed the upper window trims in raw umber and am trying on the shutters and window box.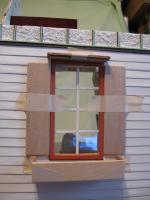 Here, I have decided that I really dislike the window box and am making my own out of matboard, cardstock strips, stickers for designs, and leftover brackets from my 1/2-scale Rosedale.
I added louvres to all the shutters (had to make four more since I'd added those two windows on the right wall), framed in raw umber with the inner detail in Mint Julep Green, and after much agonizing tried the Green on the window boxes.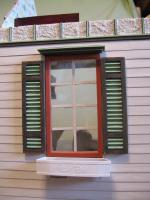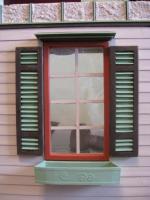 I was dissatisfied and thought it looked off so posted on the board for help; got a number of great comments and suggestions including orange and yellow flowers, tone down the Pomegranate Tea in the window trim, and bring the Pomegranate Tea down to the window box so that the bottom edge won't float.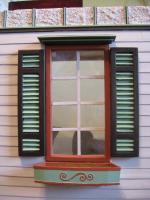 I'm going to add more washes to tone down the Pomegranate Tea but I'm much happier with this and more hopeful about being able to tie all these colors together!