I made some of Kris' chairs 
http://1inchminisbykris.blogspot.com/
for the parlor: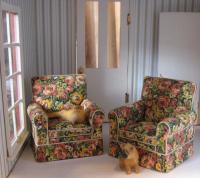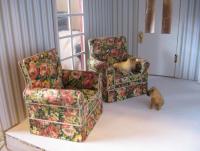 Had just enough taupe "piping" (natural cotton braiding cord, by Clubhouse Crafts; found by the beading at Joann's)!
Made the shabby chic bed from Kris' tutorial, and her occasional table too: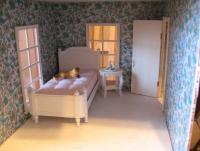 I wasn't paying attention and used cardstock instead of regular paper for the bed's "decorative turnings" so they are a bit bulky but that's OK. That table did take a bit of elbow grease, with its twelve leg cutouts from matboard, but it turned out nicely. Can one get a sprained arm from working on minis?!
My tea set order from
http://www.manorhouseminis.com/
came in, on sale on the "Featured" section: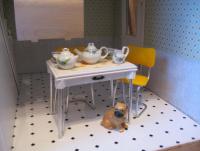 You can see that I added a little cover to the table top (actually a piece from a RL roll of wallpaper that I'd found at a thrift store), because my spray paint skills are still not very good and there was too much dripping and unevenness on the spray-painted table top.
Working on the kitchen cabinets from Kris' site also: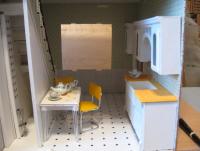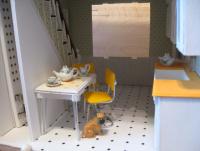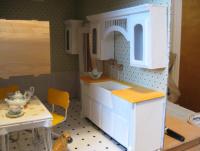 The cabinets are just in dry-fit now; I had spray-painted the cabinet bodies without gesso first and didn't like how they turned out, so I added a coat of gesso to smooth them out a bit before I brush on another paint coat.
A few things I did differently: The wall cabinets are not set at ceiling height, because this would interfere with my bracing trim strip that I am going to mount on the edge of each ceiling. Also, I did not put in the cute little pleated fabric inserts in the wall cabinet doors, because I wanted open cabinets to be able to put things in. I did not make the arches on the sink cabinet doors because I forgot before I glued the doors together!
The matboard crown moulding is great though; I might just make some more for the ceilings. 
I have really been focused on the furniture for the past couple weeks, just doing little things for the house like making cardstock templates for the floors and ceilings, and did get the 2nd floor staircase installed. I do want to make one more occasional table for the parlor now that my arms are rested up again
, but it's time to get back to the house, and figure out all the electrical runs. 
A note: I came across a wonderful Laurel build in progress at
http://glorioustwelfth.blogspot.com/
; at first I didn't realize that she'd started with a Laurel! Check it out; the brickwork is fabulous.