I decided to make the dormers out of posterboard, to help keep the weight down: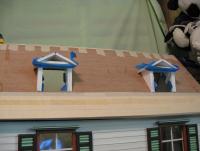 Then I was working on the trim for the 2nd staircase, had the bright idea of checking the lights and lo and behold, both 2nd floor lights weren't working!
Turns out that whilst brandishing my exacto blade around that corner to make room for new trim pieces, I had accidentally cut both wires where they emerged from the 2nd floor staircase to run along the wall to enter into the top of the 1st floor staircase.
This is a blurry photo but it kind of shows it:
I had to rip out the back of the 2nd floor staircase as well as the corrugated wainscoting on the wall which hid the wire run, splice the wires back together (I had extra wire to do so), reinstall the staircase backing and a new piece of wainscot. And of course plug the lights in to make sure everything worked. Whew!
The reason I was messing around in those areas was that I was trying to install the railing around the stairwells; I finally decided that the 2nd floor stairwell had to have two additional newel posts because the one attached to the 1st floor post was simply too wobbly on its own.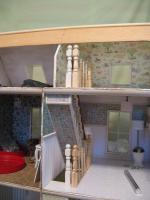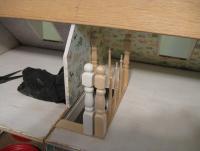 Finally got the parlor floor made and installed (1/32" basswood strips on a cardstock template, stained in Minwax Golden Pecan):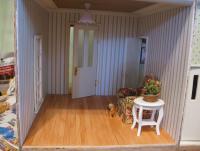 But-- all my careful attention to swinging door clearance just wasn't enough: the front door refused to pass nicely over the floor
(I think this has something to do with the fact that the base of the house is bending a bit at the front wall), so I had to use my trick that I used with the Tennyson, where I swung the door back and forth under sandpaper. I didn't want to ruin my nice new floor so I put some fleece under the sandpaper.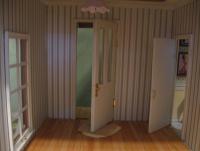 On a more positive note, I made some baseboards out of matboard (inspired by Kris' matboard moulding which you can find here
http://1inchminisbyk...e-from-mat.html
), because I needed a thicker baseboard in the parlor to cover gaps. (Due to the parlor floor space not being square-- this post sure has alot of discussion about mistakes and how I covered them!
) They take a bit longer because I paint them with gesso, leave to dry for a good long while, then paint with my trim color, but it ends up costing pennies (as opposed to bought wood trims), is lighter-weight, and is easier to cut and install.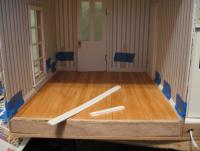 And here is why I have taken to installing one line of shingles at a time (leaving at least an hour, and sometimes all week between installs):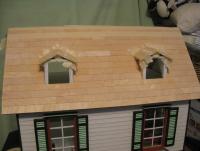 Nice and flat, no buckling!
Now for something a bit different-- I found this great tutorial here
http://dadasdollhous...piano-the-case/
for an upright piano. The authors used cereal box cardboard glued together, but I used mostly matboard so I had to measure some things to fit here and there, but I am very pleased with the result. I think next time for the legs I will use small dowel rod with paper turnings (a la Kris at
http://1inchminisbyk...shabby chic bed
) instead of the spindles that I used here, because I accidentally broke one of them (I hope you can't tell) but I still like it.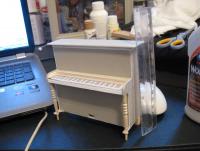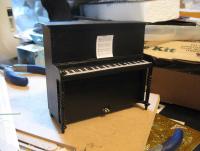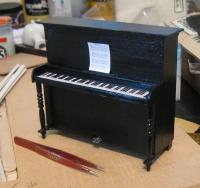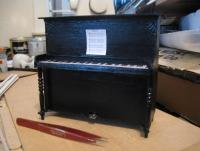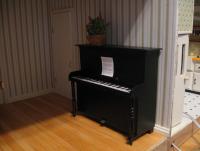 The tutorial authors made a pin-hinged keyboard cover but I wanted the music to be visible so I didn't install a cover. (Also I messed up the spacing so it wasn't going to work out anyway.
) I gessoed the whole thing before I painted it black, glued in the keyboard piece, and put another coat of paint on it, finishing with semi-gloss acrylic sealer for that old glossy black piano look. I don't know if you can tell from the photos, but each black key is its own separate piece-- those aren't print-ons! Maybe I should gloss them. For the next one maybe I will use thicker cardboard so as to accentuate the black keys.