I know, I know-- get back on that Willowcrest! Don't worry, it's getting there.
Made some little chairs from Kris' chair tut
http://1inchminisbyk...nch scale chair
, except I made them lower by one layer of foamboard, so had to do a little fitting on the fly: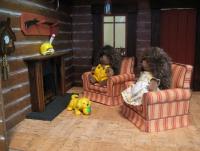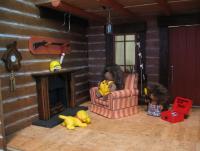 Kept them the same width though, because the Calico Critters may be short but they're pretty wide!
Made my own kitchen table and bench set out of mostly matboard with some wood dowel bracing: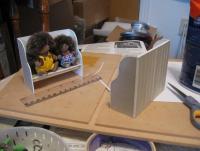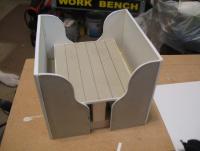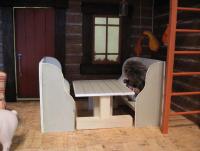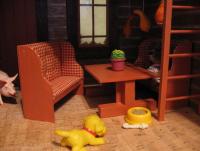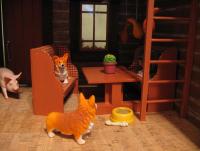 And some tuffets made out of cardboard rolls that tape came on: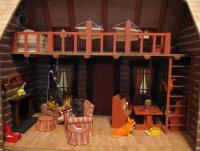 Finally, some curtains! With rods made out of dowel and toothpicks. The "rug" on the second floor was cut from an upholstery sample that my mother and I found; I fringed the edges by removing extra strands.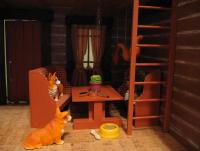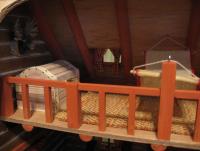 I mounted some family pics on some of the little birch rounds that I'd found at Michael's: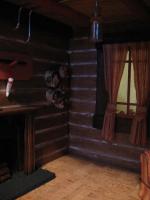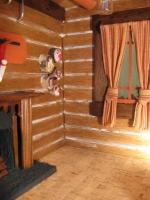 Some old butterfly stickers and a cardboard box top and some sewing pins: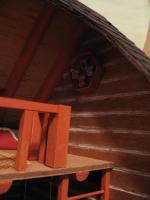 A beaded thingie that my mother had found for me makes a wall decoration: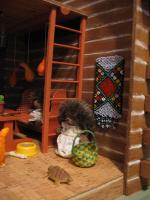 Interior and exterior pics: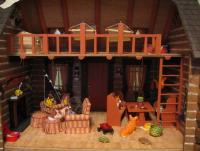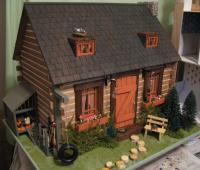 The chimney is painted, with a hole for the power strip switch (and room to get at the fuse also); I stole my spider web (made of plastic transparency and transparent thread) and spider (made of a small pompom with wire legs) from my Spring Fling from a few years ago to mount in the corner.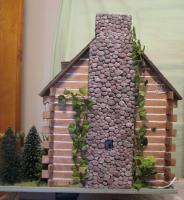 I had some plastic bottle-brush trees sitting around (I must have had these things for years); painted over the "snow" with green and glued them to the base. Some fuzzy faux green plant stuff, and some landscaping powder and foam, and some more of those birch rounds for steps. A tire from a model car kit, tied to a wooden dowel post with mini chain.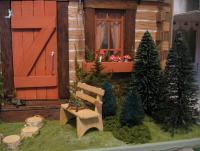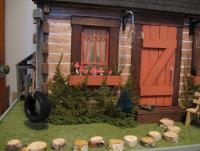 I had so many hand tools that I needed to make somewhere to store them! And yes, that is a little (plastic) snake under the chicken coop. That ought to make for some drama.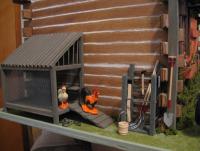 Hubby found some tiny plastic fish, so I made a little well with a foamboard base and a paperclay stone exterior; it'll have to dry overnight, then I'll paint it and see about filling it with gel medium or something. It will just fit in the front yard, I think.