1

2nd Floor Progress
After months of finishing work on the 1st floor and weeks of wiring work inside the 2nd floor joists, I have finally started to make and install the 2nd floor parquetry on the house.
The wiring was more complex than I had planned for it to be and I did have a couple of repairs to make before moving on to the flooring. However, it is up and running and the flexibility of lighting different rooms in countless different configurations made that part of construction worth the added effort.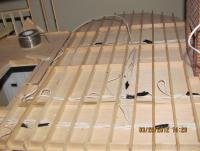 I also had to re-design the 2nd floor exterior wall that makes up the main exterior view and the largest wall on this house. Instead of 2 panoramic windows, the new wall has 3 smaller windows. It was necessary to change the design to prevent any windows from being split by an interior wall. The new wall took almost 10 hours to frame, but it is ready for paneling.
The 2nd floor, from left to right, will have a bathroom, bedroom, 2nd floor landing and a library. The outer edge of the bedroom floor has been installed and most of the parts used to make the border pattern that can be seen on the first floor have been prefabricated. I expect the bedroom to take about a month. The landing should take about 2 - 3 weeks, and the bathroom, which will have tiling, will take about 2 weeks. The library is another story. It will have several features along with some of the longest stretches of border inlay in the entire house. I will be surprised if its completed before September.
After the flooring is complete, the only major projects left on the house will be the bookcases & books. The rest of the work will be standard building construction. I doubt the house will be finished in time for the Philly show in November, but it should be close if I don't encounter any major delays.
My apologies for not having many new photos to add. I will definitely include some in my next post.