0

For starters...
Hello all you Harry Potter lovers out there! I'm pretty much brand spankin' new to the dollhouse building universe, so I'm expecting more than a couple bumps along the way in making my recently aquired DuraCraft San Fran into the home of Sirius Black from Harry Potter.

My hopes for this house is that its going to be as close to the movie as possible. There are some very key things in his home that I'd like to include, such as the family tree tapestry, shrunken house elf heads, evil looking portraits, and beautifully broken kitchen.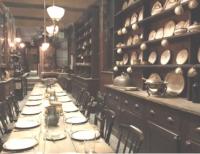 Its going to be ALOT of work, and I'm sure alot of mistakes, but hey thats how you learn. This is going to be my first attempt at... adding on to a dollhouse, moving windows and doors, full walls of paperclay, sculpting of ANY kind, and making my own furniture. I'm sure there's more but I don't want to intimidate myself too much!
I pretty much have no idea what I'm doing... let's just saw I'm going to need more than a little magic to make this thing look how I see it in my head!!!!