1

Switching Gears
Saturday June 9, 2012:
I started the day by switching up on my small projects. I figured since I have such a long way to go and this house will probably take me about 2 years to finish, this plan of attack will keep me engaged in the project and prevent me from becoming bored or burned out. So today I started work on the little laundry tub. This is my inspiration photo: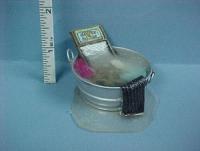 I'm using Realistic Water by Woodland Scenic's a metal washtub, scrap material for laundry, tiny beads for bubbles and I made my own bars of soap using polymer clay.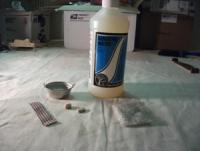 http://woodlandsceni...em/C1211/page/1
I'm making my own washboard by using pieces of scrap wood, acrylic craft paint, and a little mahogany stain.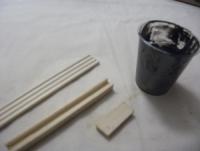 The Realistic Water is added to the tub ⅛ inch at a time. You must allow it to dry for 24 hours before you add the next layer.
I made some of my bubbles on a separate piece of paper and let it dry for only a few hours so that it would still be pliable and I could shape it over the sides of the tub.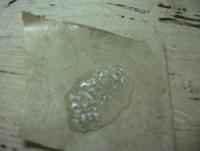 I painted the ribbed wood trim with a mixture of Delta Creamcoat acrylic craft paint in Black and Pearl Finish white. I stained the frame with leftover mahogany stain. Once assembled I added the board to the tub, added another piece of cloth to resemble laundry, placed the soap and topped it off with another layer of Realistic water. I let it dry for an hour or two and then used a straw to blow bubbles in the liquid. And you can just see the "bead" bubbles falling over the side of the tub near the washboard. When the water has set up a bit I'll add the dripping water off the laundry along with a puddle on the floor.