1

Magnolia interior work.
Posted by
rbytsdy
, in
Magnolia
23 March 2012 · 310 views
Hmmmm, what have I been doing... Well, I got the kitchen ceiling glued in (though I opted not to do orange accent touchups after all); here you can see one of my favorite methods for applying pressure over an area without running the risk of damage, using a chunk of soft packing foam to make sure the ceiling light sticks well: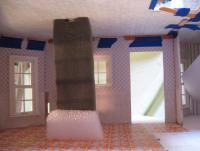 This kitchen is all window and no space for cupboards! So I decided to build in some open shelving along the ceiling, made from basswood. I cut paper templates first to figure out the angles. The divider edges are seed beads strung on sewing pins (the pins helped keep the shelves together also). I painted everything twice with my Mother-of-Pearl semigloss latex, and put some backing paper (some of my final scraps of nice corduroy paper from Michael's) for a more cohesive look.
I was thinking hard for a while about the wainscoting and finally decided to tie in the ceiling paper; I am pretty pleased with the effect, though I think I will go over it with Mod Podge to seal the painted paper because the latex ends up a bit tacky. Also have a bit more spackling and touch-up to do here.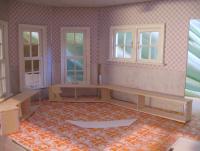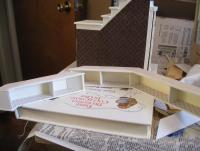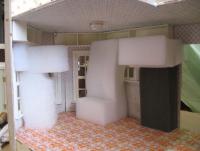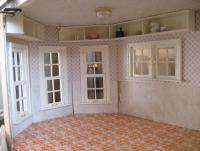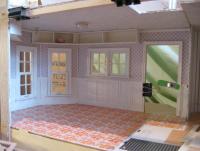 Nice stained parlor floor! Love this color (Minwax Golden Pecan, oil-based):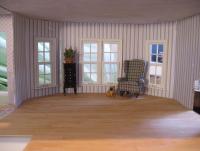 Worked on the parlor ceiling; the only ceiling light I had left was very plain, and I wanted something bolder here. I had the remnants of an ill-advised purchase-- a hanging globe that I had not realized was with a non-replaceable bulb; I had to break the globe to get at the bulb, which had come loose! So I had some little dollar-store plastic gold champagne cups and sawed the stem off; drilled a hole (carefully, so the plastic wouldn't crack) and glued the light fixture remnant onto the cup. I like the look-- not too chandelier-fussy but not too plain-jane either.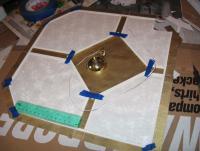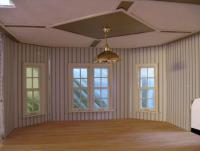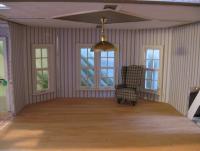 I am finishing the trim in the parlor because that goes alot easier without the staircase installed just yet, but I'm also prepping the staircase; I put sewing pin ends in all my railing post pieces to help with placement, and trimmed the staircase sides with more ceiling paper.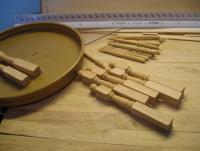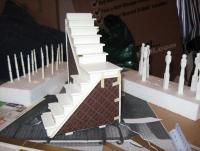 I also made little stair pads; spent a bit of time thinking about patterns but finally settled on this flowery one that I really like. It's a bit bold but I think it will work here in this central space that sort-of connects all the room decors. I haven't glued the staircase in yet (dry-fitting here) because I want to install the front door while I still have good access to it from the inside.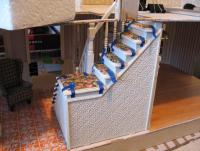 Plus I am actually making progress on my HBS contest build! (OK, hardly any tangible progress. But I have thought about it quite a bit.) And looking forward to the Spring Fling release-- very nice that we are getting to work on it until Labor Day!