1

Rocking horse.
I've been working on the Spring Fling, but took a little break to try to make a rocking horse, which actually I've been thinking about for years now, I guess!
I came across Karen Fitzhenry's site a while ago:
http://www.karenfitzhenry.com/
Her miniature rocking horses appear to be hand-carved and are absolutely beautiful. For my rocking horse, I printed out one of her photos as a guide to shape (I never was any good at drawing horses), and rendered three pieces on cardstock, the torso+head and the front and back legs. Then I cut three of the torso+head out of balsa (1/8", I think it was) and glued them all together, and two each for each leg out of matboard and glued them together. I glued cardstock to the lower legs also to add a bit more dimension. I also used my dremel (as well as sandpaper) to carve out some features on the head and define the neck. (My horse's head is bigger than Karen's but I like it that way, besides I used to work with a dappled horse that had a bigger head.) I decided to pin the legs on (using cut-off sewing pins) because it helps with placement and I just like the way it looks.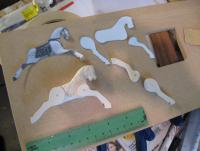 After affixing the legs, I spackled a bit around the legs and gessoed the whole body. I also made the rocker (from matboard, reinforced to round with basswood arcs, and basswood spacers), and I made it a bit wider than the torso: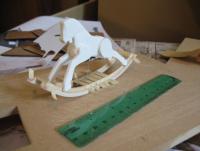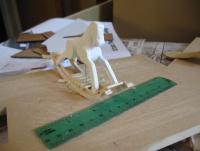 After another coat of gesso, I painted him with an off-white acrylic but I didn't really like how that looked, so I painted him again with my interior semi-gloss latex (Mother-of-pearl) that I use for my houses, and dry-brushed him up a bit with a mixture of dark paints. The dapple is tough to do so I tried not to over-do it! I had gotten some copper acrylic the other day and thought that it worked pretty well on the rocker.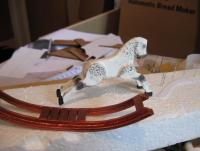 Had to think about the hair-- but I had some rather stiff silver embroidery thread lying around that hadn't worked for anything else, that worked pretty slick for this! Had to think about how to get it on his head too (placing piece-by-piece didn't work well at all) but eventually I had an idea that worked really well. I glued lengths of it side-by-side on a strip of card, letting the glue extend beyond the edge of the card so that when it dried, I could fold the card in half, cut right along the edge, and have a good thick continuous mane that held together at the edge, to glue on the neck. I also put some mini-hold wax in his tail to keep the strands from popping up all over the place.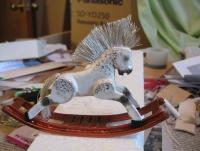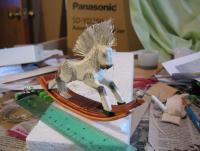 I had some felted cardstock ("1897 bon bon - crushed velvet cardstock" by doodlebug design) that I cut into strips (and colored the white sides with a marker) to make a simple bridle and saddle; trimmed up his mane a bit; gave him some ears (triangles of cardstock rolled into an ear, gessoed and painted); gave him some black enamel eyes (with the tiniest white speck, applied with a toothpick), and sealed him with some semi-gloss and satin sealers.