1

Mini gifts, and the Heritage.
Posted by
rbytsdy
, 02 June 2012 · 292 views
I've been traveling this past week, and my mother took me to A.C. Moore's for a birthday shopping spree (I don't have A.C. Moore's where I live so this was a treat!)-- got some minis, and some new paints that were on sale. Used a store 50%-off coupon to get the furniture set, and used the fact that one of the chair legs had broken off to get an additional several bucks off as well!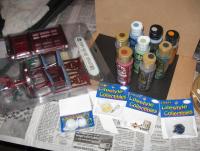 I took my rocking horse along and gave it to my sister. She seemed to enjoy it, though she might try to use it for a Christmas ornament!
A while back (last year, I believe), I had posted pictures of a house that my mother found at a yard sale and got for me for twentyfive bucks; I posted it on the forum and everyone handily identified it as the Duracraft Heritage!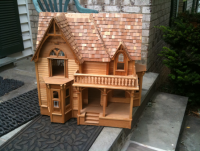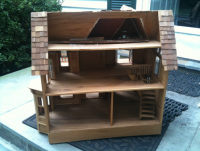 Well it's been sitting in my mother's garage for the past year waiting for me to figure out how to get it out here. Yesterday I tried to bring it as check-in luggage but the airline told me that it wouldn't fit in the chutes and they wanted to charge me $200 handling fee!
But they kept it at the counter so that a friend could pick it up and mail it to me, for considerably less than $200. So it will be here soon for me to rehab.
Another thing that happened is that a family friend called me and told me that she's expecting her first granddaughter in the fall, so of course she needs a dollhouse! I am thinking of finishing the Willow to send to her, either that or the Heritage rehab.