2

Diamond-pane windows for the SF.
Posted by
rbytsdy
, 30 June 2012 · 539 views
Well I needed some windows for my Spring Fling with little "leaded glass" diamond panes, and I was looking at
http://aboutmydollho...e-progress.html
; she used some mesh that she painted and applied glue and thin plastic. Well I didn't have any mesh that I could use, so I figured that I had to make my own mesh. Now I'm sure that somebody else has done this sort of thing before, so if you have, let me know! But I hadn't recalled seeing it on the blogs...
I didn't take pictures the first time I made these, because I wasn't sure if it were going to work or not!
So this is a piece that I just now made.
I cut out an aperture in cardstock, a bit bigger than the window aperture, leaving alot of card margin so that the piece could be handled easily. I marked 1/4" along each edge, starting from the center of each edge; really I used these markings for guidelines but I suppose I could have been much more precise about them.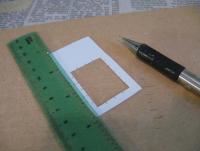 I taped the card to the top of a plastic box. Then I got some dark-colored embroidery thread; this is a dark brown. (I thought that black might be too black, besides I don't think I have any black!) I started from a center and went to the opposite corner but one could approach this any number of ways. I taped each end so that the thread was fairly taut. Then I strung the opposite way.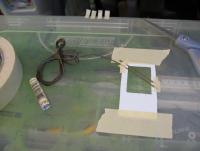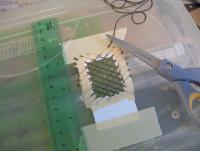 Now this was the part that I didn't know how well it would work, but it works really well: I used Gallery Glass paint to fill in all the diamonds. Shown here is the one that dries clear, but I figure any color would work. I applied it quite liberally, and used a paintbrush to fill in all the corners and even out the coat to cover everything really well.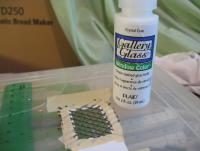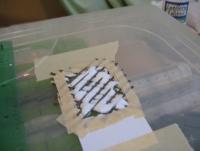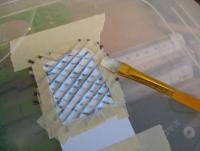 This is the reason that I taped the cardstock to something plastic, because when this all dried really well, I carefully peeled the window up in one solid piece. The paint has to be fairly thickly applied in order for it to hold. The first time I made these, I had to slap myself from peeling it up before it had dried, to see how it was doing...! So I left it alone until the next weekend (I think it was dry the next day, though, you wouldn't have to leave it for a whole week) and was so tickled at how they turned out and how nicely they peeled up from the plastic flat top. I trimmed the card off them and glued them right into place; they weren't stiff at all but rather like thin rubber.
(Note that I don't think that this would work with spacing much bigger than 1/4".)
I don't have pics of the dried piece because I just now painted this one! But here are a couple (limited) views of the installed windows in my SF build: