1

The Bronte House
Today will be the beginning of my very first blog. Not exactly sure where to start in all of this, so I guess I'll just jump right in. The house I've chosen to re-create is the Haworth Parsonage, better known as The Brontë House, home of famed writers Charlotte, Emily, and Anne Brontë. The girls occupied this house in the early 1800's with their pastor father Patrick and their artist/writer brother Branwell. The kit I'll be using is the smooth finish "Hancock" made by the wonderful folks over at Earth and Tree Dollhouses and Miniatures. The house is an exact duplicate of the old parsonage in regard to window placement, chimneys, and roofline and they have very graciously offered to make one for me without the milled in siding. A link to their homepage can be found under the house photo.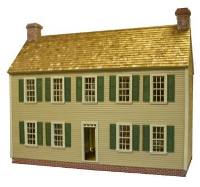 http://earthntree.co...5608159ee38e349
Haworth Parsonage - The Bronte House
I'm going about this house a little differently from my others, by accumulating, building, and designing the interior items for the home before doing the actual build. I hope to duplicate the exterior and interior as closely as possible by using pictures of the original house. Only a few photos are available, so the rooms I'll be tackling are the dining room (where the sisters did their writing), the kitchen, Patrick Brontë's bedroom and study, and Emily's bedroom. I will also be adding Branwell's art studio, Charlotte's bedroom, and the study of Mr. Nichol's, Charlotte's husband, but those will be products of my imagination and the general history of the time. So, let's get started with the accessories for Patrick Brontë's bedroom. Here we go!
Patrick Brontë's bedroom: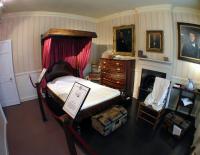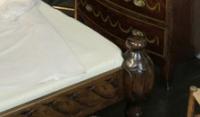 One of the interesting details on the bed is the scrollwork along the sides and the foot of the frame. I'm starting by making a template for the scroll with MSWord.
After making the scrollwork I sat for the next 5 days staring at the bed deciding where to start. I finally figured I wasn't getting any younger and neither was the bed, so I dove in. I used my Dremel to cut off the excess wood at the top and bottom of the footboard and sanded it smooth.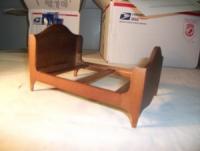 I tried cutting out the stencil to no avail. It was too small and not even an Exacto knife would cut it without ripping the paper, so I used a black magic marker to lay out the design and freehanded the scroll marks with a Dremel attachment.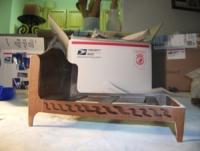 After that I sanded the piece to remove the walnut finish and even out all the edges. I still have some more hand carving to do on the frame to clean it up and make the scroll work more defined, but that's work for another day.