1

Finishing the bed
July 18, 2012:
Well it's been a layoff of about 2 weeks since I've updated my blog, but although not writing, I have been busy. During this time, while sweltering in 95+ degree heat I managed to poly the bed frame and canopy and attach the two. While waiting for the poly to dry my fabric arrived, and I made the bed draperies and used Velcro to attach them to the bed. The bed originally had a mattress and pillow that were basically made of a small piece of plywood with foam batting and a piece of yellowed silk material as a cover. I stripped off the cover and replaced it with fabric from a discarded cotton pillowcase. I think the result is a pretty close match to the original.
CONVERTING A NON-WORKING LAMP:
The next little project I undertook was converting a non-working hurricane lamp to a working lamp. I used a handsaw to separate the plastic top from the wooden base and removed the red candle. I then drilled a hole through the base for the wires. I used a GOR (grain of rice) bulb, and attached it to a length of electrical wire and then attached a plug. After putting all the pieces together I decided that I didn't like the way things were attached so I'm going back to the drawing board, so to speak. The black electrical tape is just too thick to make a nice neat connection, so I've ordered some heat shrink electrical sleeves, and I'm going to rewire the lamp when they arrive. But for the moment, you can see where I'm going. I've also ordered more bulbs and I'm looking around for other non-working lamps that I may be able to convert.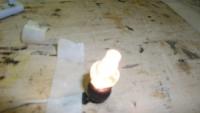 THE OUTHOUSE:
My next small project will be the outhouse. I picked up this one online and I've got a lot of distressing to do to make it look "lived in."