I wanted to post the new DIY today but the batteries in my camera died
. Didn't I have that problem last time?
I'll definitely have it up tomorrow after I buy more batteries.
The project is Roman-type blinds made from a bamboo shelf liner. I'll also include tips on personalizing the blinds to coordinate with your room. It's fun. It's quick. And best of all, it's easy. They look good too.
I'm adding the diy to this post to keep it easy to find
For this project, you'll need a bamboo shelf liner, tin snips or similar heavy scissors, glue, masking tape, pencil, and a ruler. I found my liner at Walmart for under $5. You can get four shades out of one shelf liner. This picture shows what the liner looks like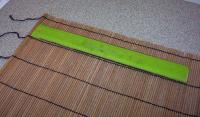 Measure the length of the area on your window that you want to cover. The black threading on the shelf liner becomes the sashes for the blinds. Use your ruler and pencil to draw a cut line so your sashes will be equidistant from both sides. The pictures make more sense than I do.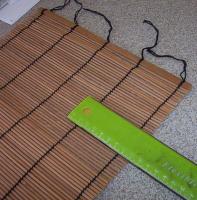 Before you cut, use a piece of masking tape mark the bottom of your shade. This also helps to keep the shade from falling apart when you start cutting.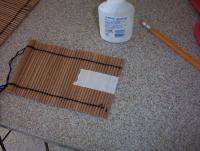 Add glue to the black binding threads at the bottom of the shade. This is to keep the thread from unraveling from the bamboo after you cut. Let the glue dry, I used my tin snips to weigh down the threads to make sure they adhered to the bamboo.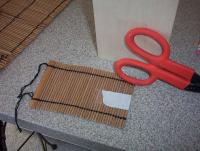 Once everything is dry, cut the shade loose. Remove the tape and you are done. Your shade is ready to hang!
Note*
In the pictures, I show the shade already cut out before the gluing and taping. This was just to make it easier for you to see what I was doing. If you cut before gluing or taping, you will have an aggravating time re-weaving the cut ends back together. It is doable but I don't recommend it. The most important part is to make sure those threads are glued down tight!
Edited by CatColorado, 10 September 2005 - 03:56 PM.