Welcome to the Greenleaf Gazette!

Spring Flings, Bling, and Fun Mini Things!

April 2008
Dear Miniature Enthusiast,
It's Spring Fling time! We're all excited about the arrival of spring and all its glory…..warmer days, brighter sunshine, the arrival of spring flowers……and the Greenleaf Spring Fling Contest! If you haven't heard about it yet, click here to find out about the contest and the coolest little kit ever. If you've got mini-spring-fever, this little kit is just perfect for that little bit of mini landscaping you've been putting off all winter.

In addition to all the excitement about the Spring Fling Contest, Tracy Topps shares a great tutorial for some flowery spring-bling. You don't want to miss out on this little charmer! We've got a bit of fun and games for you this month as well, so relax and enjoy your visit with us here at the Gazette!!

Deb Roberts
Editor in Chief
---

'Name That Room' Game!

By Deb Roberts

Let's play a little game this month! Here's how it works: We'll show you a picture of a room or a section of a dollhouse and you get to guess which house it belongs to. You'll find the answer to the question by clicking on the picture.
---

Make a Garden Vignette !

By Tracy Topps

This month, Tracy shows us how to make a charming table top vignette using a picture frame for the base. Follow along with Tracy as she shares her skill in making this delightful spring-time scene.

Full story...
---

Miniature Aquarium

By Deb Roberts

Sooner or later, we all wonder what to do with those really cool acrylic boxes that some minis come in. We know that they have too much potential to just throw them out, so most of us have a stash of these little boxes tucked away somewhere. Here's a neat little mini you can make from one of those boxes!

Full story...
---

April Member of the Month - Meet Tini Judi!

By Heidi Cleveland

I would love to introduce you to our April 2008 Member of the Month, TinyJudi (Judi). She has been a member of the Greenleaf Forum since October 9, 2006. Judi is a wonderful part of our miniature family. She always has a warm welcome, thoughtful praise, and lots of ideas to share.
---
Havana Holly's Quick Tips!

From HavanaHolly

Here is my recipe for "bug juice", it turns boring fresh, new wood the lovely silvery color of wood aged by time & the elements: 1 cup isopropyl alcohol (rubbing alcohol, try not to get the kind with additives like lotions or scents) + 1-3 droppersful of India ink. Test on a piece of scrap wood, adding ink by the drop until you begin to see the color change. You may wish to use several coats, depending on how aged you want your wood to look. This looks really nifty when you carefully sand away some of the paint here & there, letting the silvered wood show through.
---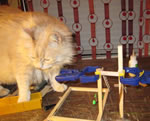 The Critter Corner!

"Hmmm... I think I know just what to do with this!"

It appears that Ms.Yin (or Mippy as she is known to her close friends and family) has found that miniatures might be beneficial to cats too! As she gives Russel's miniature gallows the eye, we have to wonder if she's considering that it's just the right size to hang a mouse. (to see how Russel's gallows came out, click here)

Thank you Russel and Ms.Yin for submitting such a great picture! Ms Yin will receive a $25 gift card from Petsmart for being our April Critter of the Month.

If you'd like to submit your pet's picture for consideration for the Critter Corner, you can upload pictures in the "Good Pets acting bad!" or "Good Pets acting cute!" galleries at the Greenleaf Forum.