Welcome to the Greenleaf Gazette!

Heaven in Half Scale

August 2010
Dear Miniature Enthusiast,
This month we're going to downsize our newsletter. It will still have the same amount of content, but that content is all about half scale miniatures! There's been a lot of excitement about the new half scale laser cut dollhouse kits, but for a lot of folks there's also a lot of hesitation about building on a new, smaller scale. We have two of Greenleaf's greatest half scale builders, Kathryn Rubidoux and Emily Morganti joining us this month to help answer questions and take the fear out of half scale. They've even shared some bonus tips for half scale landscaping and a great tutorial for a half scale refrigerator. I'm a relative novice to half scale, but I'm joining in with some comparisons of 1:24 to 1:12 while simultaneously building identical houses in both scales. (Did you know you can fit a half scale Rosedale into ONE room of the full scale Rosedale?) We hope that by the time you finish reading this month's issue you'll be as excited as we are about venturing into a new aspect of miniatures. If you're already a half scaler, there's still lots of great information you won't want to miss!

Even if you've never considered working in half scale, we hope that you'll read what we have to say about it and then give some consideration to trying something new. In half scale, everything is smaller from the price of the kits to the space needed to display your finished house... but the joy of building them is still pretty huge. Oh, and in a serendipitous coincidence, Greenleaf told me that they're releasing the half scale furniture kits just after all the articles for this issue were completed. I love it when fate steps in and pulls things together like this. I was getting ready to send in the newsletter when they told me and I finally got to yell "Stop the presses!"

So the big news this month is the 10 new half scale furniture kits are out and also the release of the 1/2 scale Willow and Van Buren Dollhouse kits! But the biggest news is a 20% site wide insider sale to help you take that first step into the smaller scale! Just see the coupon below for details!

Happy Half-Scaling everyone!
Deb Roberts
Editor in Chief
---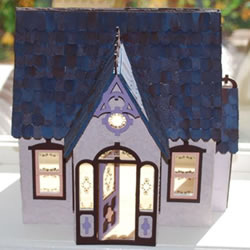 Sharing the Half-Scale Love

By Kathryn Rubidoux (aka CatColorado)

When I was asked to write an article on half-inch scale for the Gazette, I was surprised. I was even more surprised when I said yes. All surprise aside; this is my favorite scale to work in. In order to spread the love, I will write about some of the discoveries I have made while collecting, decorating, building, and creating in half-inch scale.
---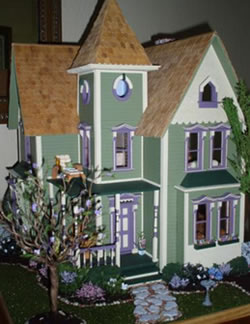 Hooked on Half Scale

By Emily Morganti

I got into half scale thanks to peer pressure. I'd recently completed my first dollhouse kit (the Orchid) and wanted to build another, but with two 1:12 houses already, my studio apartment was running out of display space. Plus, I received a set of Avon resin furniture as a Christmas gift that was much too small to display in my 1:12 houses. As I bemoaned these injustices on the Greenleaf forum, some other members who were far braver than me suggested I try the half scale Fairfield as a solution to both problems. I remember initially discounting the idea: half scale, me?!
---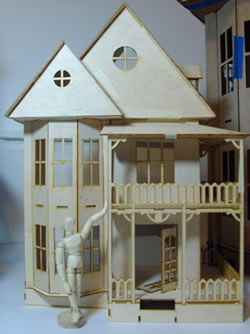 So What's the Difference Anyway?

By Deb Roberts

I count myself among the ranks of those who were reluctant to move out of my 1:12 safety zone and try a new scale... and then I tried it and fell in love all over again.

Full story...
---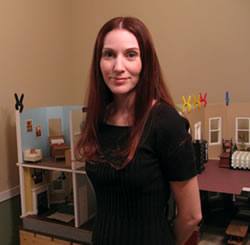 Member of the Month - Meet Brae (Otterine)!

By Heidi Cleveland

I would love to introduce you to our August Member of the Month, Brae (Otterine). Brae has been a member of the Greenleaf forum since August 21, 2009. Just her nickname gives me ideas of great things. She fascinates me because she reminds me of my family now and growing up. She is a true artist but she loves to dip her toes in all the mediums. Miniatures included!
---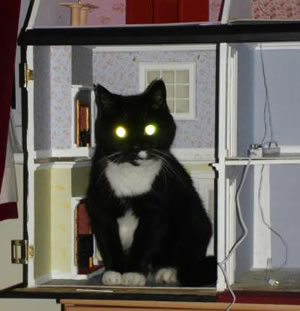 The Critter Corner!

Can we go play now?

I'm pretty sure this isn't what it looks like. Even tho Debbie says that her feline friend has his tail plugged into the transformer, we're sure that she's joking. Right Debbie? Um, Debbie? You are joking, aren't you?

Okay, so we know that Debbie is joking because cat's tails aren't compatible with a 20 watt transformer. (I looked it up to be sure.) My personal theory is that this kitty has resolved that age-old problem of 'not enough room in the house for the cat' by charging lasers and destroying the second floor. Neat solution!

Thanks to Debbie (Scotty) for sharing such enlightening pictures of her wiring supervisor with us. Debbie will receive a $25 gift card from Petsmart for being featured in this month's Critter Corner.

If you'd like to submit your pet's picture for consideration for the Critter Corner, you can upload pictures in the "Good Pets acting bad!" or "Good Pets acting cute!" galleries at the Greenleaf Forum.