Christmas Mini in Minutes!

By Deb Roberts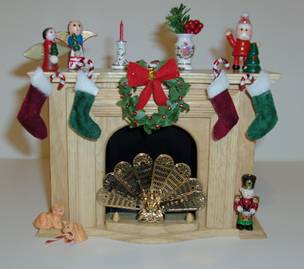 We all know how hectic the holiday season can be and how little time there is for minis. We also know how much we miss that mini-time we crave. Let's face it, too much time without minis and we get cranky. The holidays tend to be stressful and we need that relaxing time when it's just us and our miniature creations.
So here's a little project that only takes minutes to do and will still keep you in the holiday spirit! It doesn't require much in the way of supplies either (a quick trip to the craft store might be needed, but you were probably going to go there anyway, right?).
Materials needed:
One fireplace of your choice
Green and red fabric
White velvet or thin batting
Red seed beads
Red ribbon or a pre-made red bow
A length of bendable greenery or ivy
A few mini ornaments available at most craft stores
Tacky glue
Toothpicks
Tweezers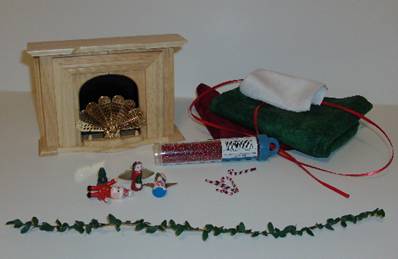 Let's start with making the wreath. Take the length of bendable greenery and bend it into a circle.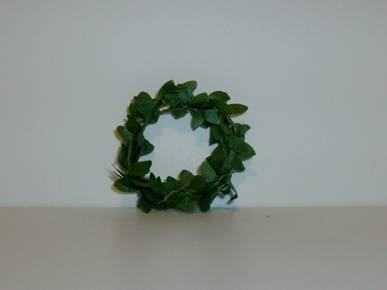 Next, glue on the ribbon or bow. Use the toothpick to place dots of glue at random on the leaves of the wreath and place seed beads on the glue with tweezers. Now you've got a lovely wreath with holly berries. Admire it for a minute and then set it aside.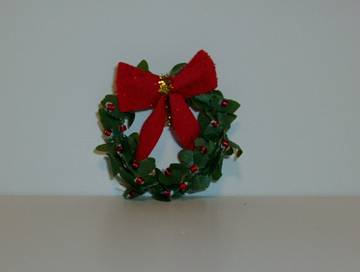 Cut four stocking shapes from the green and red fabric. I used Moda marble cotton for two reasons. Not only do they have a soft and supple weave that works well in miniature, but their mottled pattern looks like velvet. However, any fabric of your choice will work.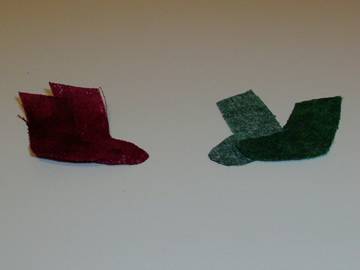 Using a toothpick, put a line of glue around the edges of the wrong side of the stocking. Glue the two pieces with the right sides facing out. Be sure not to glue too far into the stocking since you want to leave it open for stuffing.
After the glue has dried, use a pair of sharp scissors to trim the edges so there are no loose threads. The glue will prevent any further fraying and give you a nice finished edge. After the glue has dried, use the tweezers to stuff the stockings with tiny wads of paper or odd shaped beads. It doesn't really matter what you put inside them, all you need is the lumpy 'filled' look you'll get from the outside.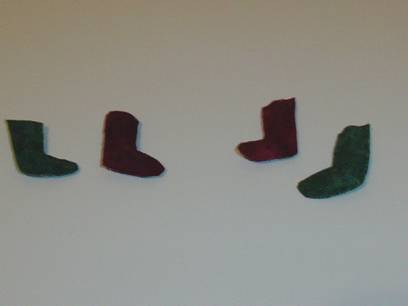 Cut pieces of white velvet or batting to make the 'fur' edge at the top of the stocking and glue it in place. For the final touch, glue a candy cane sticking out of the top.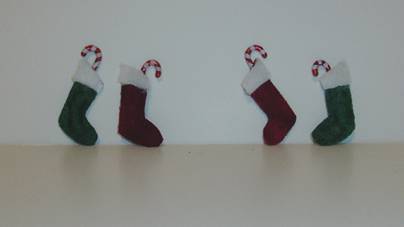 Now you're ready to glue the wreath and the stockings to the fireplace. A hot glue gun works well for this for two reasons……you won't have to wait for the glue to dry and it will be easy to remove them if you want to after the holidays are over.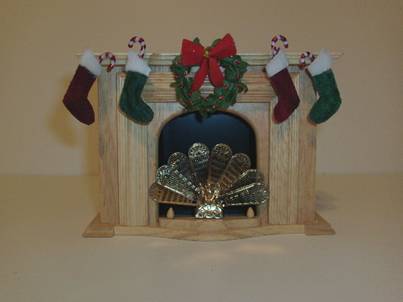 You're ready for some fun with the little mini ornaments now. Cut off the gold string at the top of the ornament and suddenly it's changed from a tiny ornament to a perfectly scaled holiday decoration for your mantle! I filled a vase with a small evergreen branch and some red berries for a festive touch, and then added a candle and a plate of holiday cookies to tempt Santa down the chimney. I couldn't resist a couple of kittens playing with a candy cane for just a bit of whimsy.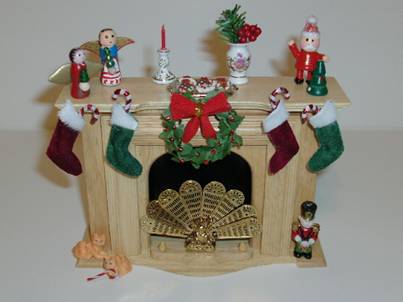 And there you are! You've had a little mini time to relax from the holiday stress and in the process, you've created a great little addition to your dollhouse or roombox.
Return to home page