Welcome to the Greenleaf Gazette!

Warm Floors and Cool Workspaces

February 2010
Dear Miniature Enthusiast,
It's starting to feel like it's been winter forever and that spring will never arrive, especially for folks in parts of the US who have been digging out from under one snow storm after another. Poor little Phil the Groundhog is probably one of the least liked critters in the world right now! February seems to be when cabin fever and the winter blues are the worst so we thought we'd help warm things up a little and share some excellent projects for beating that cabin fever.

This month Casey Rice (and Tessie) shares a tutorial for creating tile floors that will warm up your toes just looking at them. Gina has some excellent tips for creating an efficient workspace in a small area that won't strain at your pocketbook either. Also joining us this month is Brandaen Jones, who shares some of the techniques he used to create the Gris Gris house which won third place in the HBS 15th Annual Creatin' Contest.

I know that everyone is watching for signs of spring. Some people are checking the bird feeders to see if the first robin has arrived yet. Others brush away snow from flower beds to see if the tulips are pushing up yet. However, in the miniature world we anxiously await another sign of spring... the Greenleaf Annual Spring Fling Contest! Spring Fling means that warm weather is just around the corner, but more importantly it means a new kit and a new chance to share building and creating with our miniature friends and family. So organize your workspace, think about all those dream dollhouse ideas that you've put aside for 'someday', and get ready for Spring Fling 2010!

Deb Roberts
Editor in Chief
---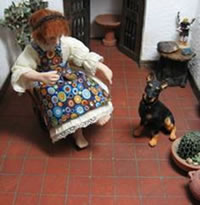 Tile and Bricks from Mat Board

By Casey Rice

Many years ago I saw a technique similar to this used for Dungeons and Dragons. I thought that, with a little alteration, it might work for dollhouses. It is fairly simple to do, with a bit of practice and takes very few materials and equipment.
---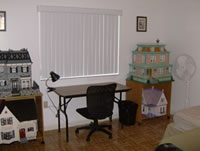 Creating a Space (and Cost) Efficient Workspace

By Gina Lasalles

Having a good work space set up to build your dollhouse is key for a successful outcome. Dollhouses can be time consuming and messy projects. Think of all the wood scraps, splinters and dust that you will have laying around your building area for weeks if not months, to come. Not to mention all of the tools and materials that will be competing with your dollhouse for space.
---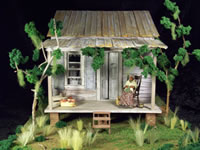 Aging and Distressing the Adams Dollhouse (Part 1)

by Brandaen Jones

I had never tried to weather or age a doll house before I attempted this house. Throughout the entire project I was just astonished how much I could do cheaply and make it look realistic at the same time.

Full story...
---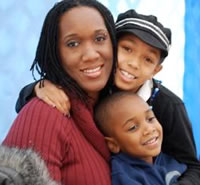 Member of the Month - Meet Tiffanie (Kitten)

By Heidi Cleveland

I would love to introduce you to our February Member of the Month, Tiffanie (Kitten). Tiffanie has been a member of the Greenleaf forum since August 29, 2007. I was drawn to Tiffanie because she has a Duracraft Marquam Hill mansion just like I do. I love to see how someone else interprets the same dollhouse.
---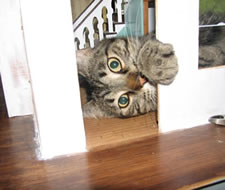 The Critter Corner!

Whatcha doin'?

If you have a cat in your life, you know what these moments are like. You're concentrating on the task at hand, completely caught up in what you're doing, and suddenly a paw jumps out of nowhere followed by a furry face. Obviously whatever you're doing requires that the kitty be involved! Ann describes TabbyGrey as her "key helper pest" but we're pretty sure that TabbyGrey just believes that curiosity never killed anything but time.

Thanks to Ann (uppitycats) for sharing this picture with us. She and TabbyGrey will receive a $25 gift card from Petsmart for being featured in this month's Critter Corner.

If you'd like to submit your pet's picture for consideration for the Critter Corner, you can upload pictures in the "Good Pets acting bad!" or "Good Pets acting cute!" galleries at the Greenleaf Forum.