Welcome to the Greenleaf Gazette!

Fine Faux Furnishings

February/March 2011
Dear Miniature Enthusiast,
It's almost here!! We're counting down to Spring Fling 2011 and it's literally just days away now! Everyone is excited at Greenleaf because we have another fantastic kit in store for you. As you know when we create a contest kit, it's not just for the contest-it's a brand new product that miniaturists will be building for years to come. This year is no exception and we can't wait to show you the latest dollhouse kit in the Greenleaf line. The only thing better than creating a new kit is releasing it and watching what you all do with it! The coolest part though is this the winner gets to choose the official name of this kit!

While we're waiting for Spring to arrive, we thought we'd take a look at how to create some fabulous faux furnishings. We traditionally see some of the most creative interior designs during the Spring Fling contest so this month Tracy Topps kicks off the fun with tutorials for two of her most recent creations---a sweet little shabby chic bed and a faux dresser that looks like fine furniture. We'll also show you how to turn a resin pet bed into fantastic faux wicker and then make a comfy little cushion for it so your pet's bed can coordinate with the people furniture.
Deb Roberts
Editor in Chief
---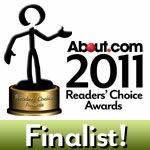 Vote Greenleaf!

By Dean Roberts

Greenleaf is proud to have two dollhouses nominated for About.coms 2011 Readers' Choice Best Miniature Dollhouse or Building Kit. The Beacon Hill and McKinley Dollhouses are two of the five finalist. The poll they are using for voting will only take one vote per day per IP address, but our supporters can vote daily. The polls close tomorrow and the Beacon Hill is second place, so lets see if we can't push it over the finishing line. Please vote here if you agree!
---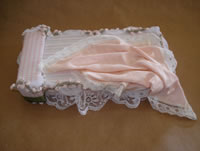 Pretty Faux Bed

By Tracy Topps

It's been said that something doesn't have to be real to be pretty and this sweet little bed is a good example of that theory. Learn how a little cardboard, wallpaper and lace can be turned into a beautiful bed for your dollhouse or roombox.
---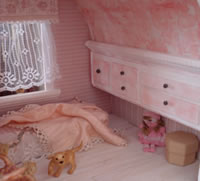 Shabby Chic Faux Dresser

By Tracy Topps

Making a faux dresser in tight spaced places can be challenging. Here I will show you how to save on space but still have the "look" that your chest of drawers is there.

Full story...
---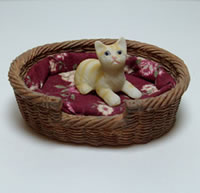 From Resin to Realism: Creating a Faux Woven Basket

By Deb Roberts

It happens all the time--sometimes we just find a miniature we like but it doesn't look quite as real as it could, or the color and style are all wrong. Recently I was searching for a woven basket to use for a pet bed but all I could find in the style I wanted was white resin. There was no way white resin would work in a Victorian room filled with walnut furniture but with a little paint and a little fabric and fluff, I was able to make a sweet basket bed that any cat or dog would love.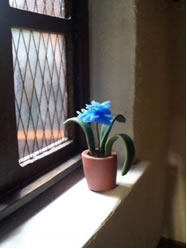 Member of the Month - Meet Deb G!

By Heidi Cleveland

This month I would love to introduce you to a talented miniaturist, Deb G. Debbie has been a member of the Greenleaf Forums since January 3, 2009. Her work in her gallery just blew me away. I had to share her work with those who have not met her yet or have seen her gallery.
---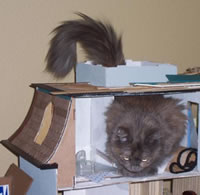 The Critter Corner!

Tower Replacement Theory

They say that a picture is worth a thousand words and I'd have to agree with that. Sometimes a picture gets my imagination to working overtime and I get a mental image of the sequence of events leading up the moment caught in time. In this case, the way Cleo is looking down it definitely makes me wonder if her fluffy tail emerging from the Beacon Hill tower opening displaced something and she's surveying the damage below her. Or perhaps she's just showing us how a fuzzy tail makes a great chimney.

Thank you to Suzy for sharing such cute pictures of Cleo with us. She'll be receiving a $25 gift card from Petsmart for being featured in our Critter Corner.

If you'd like to submit your pet's picture for consideration for the Critter Corner, you can upload pictures in the "Good Pets acting bad!" or "Good Pets acting cute!" galleries at the Greenleaf Forum.