Welcome to the Greenleaf Gazette!

Aging and Distressing Dollhouses

January 2009
Dear Miniature Enthusiast,
This month we're going to start the new year by taking a look at how to make new dollhouses look like old houses! Dollhouses can take on so many personalities, from Victorian to modern to fantasy. It can be a lot of fun to create a distressed or aged house. Aged houses can be gently distressed, or grittily realistic depending on the look you want. Come join us this month as we take a look at the wonderful world of distressed dollhouses!

Don't forget, our Third Annual Spring Fling Contest launches next month. We have a great project in store for you at an incredible price, so keep your eye on your inbox for the announcement. For those of you who are unfamiliar with our contest, visit last year's contest gallery for some great eye candy!
Deb Roberts
Editor in Chief
---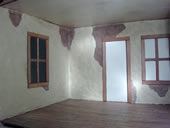 Crumbling Plaster Walls and Aged Ceilings

By Deb Roberts

A fantastic look for aged houses is a crumbling plaster wall exposing the bricks underneath. Topping this look is a distressed and watermarked ceiling that gives an overall look of an old, distressed room. In this tutorial, we'll learn how to distress a ceiling and created aged walls.
---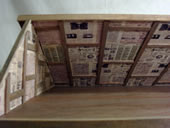 Newspaper Insulated Attic

By Deb Roberts

Old attics were often unfinished since they were used for storage only. The most efficient and affordable of materials was used in the attics since the only real concern was to insulate them to keep warmth in and drafts out. Newspaper was the most common insulation material used.

Full story...
---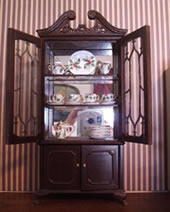 Collector's Cabinet

By Heidi Cleveland

In this edition of the Collector`s Cabinet I would like to introduce you to Greg (Hallowell), Terri (Smallhouset), and Pam (pjnick54). They collectively have some of the nicest miniatures to have graced the pages of the Greenleaf galleries.

Full story...
---

Member of the Month - Meet Marge (ilovecats)

By Heidi Cleveland

For this edition of the Member of the Month, I decided we needed to learn something new about someone we all know and love. So I would like to introduce you to Margarita (ilovecats). Marg has been a member of the Greenleaf forum since January 20, 2006. Happy three year anniversary Marg!
---
Havana Holly's Quick Tips!

By Holly Parker

Texturing tools: This isn't just for the clay folks. Sandpaper comes in VERY coarse grits which are lovely for texturing, as are the plastic mesh bags veggies and Bon Bell cheeses come in, and don't throw out the clean remains of plastic scrubbers, either. Artificial and natural sponges are lovely, and so are clean bits of bark, seashells (well y'all knew that one would come up, didn't you?) and nutshells and burrs. What do you texture besides clay? ask you. EVERYTHING, say I. Try it on your damp plaster/ spackling compound/ dh stucco. Even better, play with it on fresh, wet paint for your mini walls, furniture, wallpapers... You get the idea.
---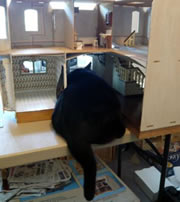 The Critter Corner!

If we bash out this wall, I think I can fit in the kitchen.

Inky inspected Kathy's (itzkathyp) Pierce and considers how to expand the kitchen and dining room to create a little more space. We're not sure if she's considering how to remove the kitchen wall or expand the dining room French doors, but we're sure she'll find a way to fit into the house. Cats always do!

Our thanks to Kathy for sharing such a cute picture with us. Kathy and Inky will receive a $25 gift card from Petsmart for being featured in our Critter Corner.

If you'd like to submit your pet's picture for consideration for the Critter Corner, you can upload pictures in the "Good Pets acting bad!" or "Good Pets acting cute!" galleries at the Greenleaf Forum.