Welcome to the Greenleaf Gazette!

Those Magical, Miniature Moments

July 2010
Dear Miniature Enthusiast,
This month weíre all about the details, those tiny little unsung heroes that create the magical, miniature moments that we live for! Sometimes itís a carefully placed accessory and other times itís the illusion of activity in the house. It can be about color, furniture, dolls, dishes, doilies... the list goes on and on but it all comes down to our ability to see those little details and combine them into something magical.

Speaking of magical, I just canít resist the mystery of half scale houses and received another order this week with three small kits that stole my heart the minute I saw them. One is a Rosedale which particularly fascinated me since Iím building a 1:12 scale Rosedale right now. I carefully took one little sheet from the half scale kit and removed the first floor and placed it inside the full scale Rosedale. I think the wonder of it took my breath away. Iím quickly falling in love with half scale and if youíve seen the new laser cut half scale dollhouse kits, youíre probably falling in love too. Next month weíll be focusing on smaller scales and have some half scale experts who will share their insight with us. You donít want to miss it because half scale opens up a whole new miniature world!
Deb Roberts
Editor in Chief
---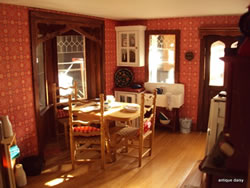 Our Little World of Details

By Deb Roberts

The world of miniatures is all about the details in the little worlds we create. We search for the perfect little touches that turn our dollhouses into miniature homes. It might be a vase so delicately shaped that it strikes a chord in your heart every time you see it. The carving on a chair leg or the subtle shades of color in a tiny rug, the expression on a wee kittenís face or the perfect pattern on a set of dishes that brings out the color of the dining room drapes... these are the things that are best seen thru the eyes of a miniaturist.
---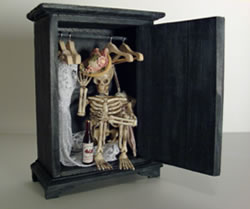 Miniature Moments: The Emotional Details

By Deb Roberts

Some of the best details in miniatures are the emotions that flow thru us when weíre lost in our little world. Sometimes it happens when weíre creating and sometimes it happens when weíre sitting back surveying our little kingdom. Regardless of when it occurs, those emotions are a little bit of heaven touching our lives each and every day. They can range from pure bliss to sheer frustration, but even the frustrating parts are looked back on with affection in time. Itís all a part of creating miniatures and we embrace each one.
---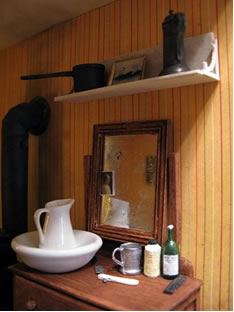 Spectacular Spring Fling Scenes

By Deb Roberts

During the Spring Fling contest this year I heard a lot of people talking about how difficult it was to choose just three pictures of their house to enter because there were too many details to fit into just three shots. After everyone had posted their additional pictures in their Greenleaf Galleries, I went thru them and decided they were right! Oh my goodness, these galleries are a treasure chest of tiny details and carefully staged scenes. I spent most of a whole day happily looking thru pictures and being delighted by all the marvelous detailing. Itís too good not to share, so here we are with some highlights of the spectacular scenes in the Spring Flings.

Full story...
---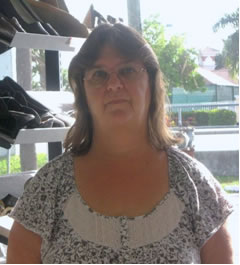 Member of the Month - Meet Glenna !

By Heidi Cleveland

I would love to introduce you to our July Member of the Month, Glenna (BlueUni47). Glenna has been a member of the Greenleaf forum since September 27, 2006. Glenna is not a blabbermouth like I am (iI am rolling my own eyes...LOL) but she has a ton to offer if you just look at her gallery. Glenna is like those silent geniuses. They never say much but when they do...Wham!
---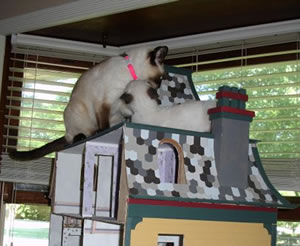 The Critter Corner!

Can we go play now?

Itís so sad when housemates canít get along. The obvious solution would be to have a bigger roof on the Beacon Hill or build another one so each cat would have his own. But then again, considering the nature of Siamese kitties, theyíd probably still fight over one. The dollhouse roof is always more comfy on the other side of the fence.

Thanks to Michelle (mrsbonjovi) for sharing such a cute picture of her fur babies with us. Sheíll receive a $25 gift card from Petsmart for being featured in this monthís Critter Corner.

If you'd like to submit your pet's picture for consideration for the Critter Corner, you can upload pictures in the "Good Pets acting bad!" or "Good Pets acting cute!" galleries at the Greenleaf Forum.