Member of the Month - Meet Glenna

By Heidi Cleveland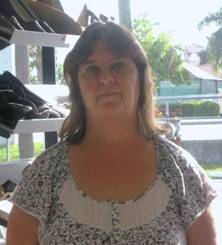 Is it hot enough for ya? I have heard that phrase many times this month. Yes, yes it is hot enough for me! You are either sweating, misting, perspiring, or glowing. None of it is any good when you are trying to do your minis. I consider this a time for re-arranging furniture, dusting, going over your inventory, shopping for supplies, cleaning your work area, purging and swapping, or just plain gazing at your houses. I hope that everyone that reads this has a place to go when it is deathly hot and I also hope you had a nice July 4th holiday.
I would love to introduce you to our July Member of the Month, Glenna (BlueUni47). Glenna has been a member of the Greenleaf forum since September 27, 2006. Glenna is not a blabbermouth like I am (I am rolling my own eyes..LOL) but she has a ton to offer if you just look at her gallery. Glenna is like those silent geniuses. They never say much but when they do... Wham!
Glenna was born in Michigan, raised in Dayton, OH, and has lived most of her years in West Palm Beach, FL. She has worked in craft retail most her life and likes that much more then any office job. Glenna was married to the love of her life, Jim for eleven wonderful years. That time with him was cut short last August when he passed away. Glenna has been working in a thrift store, meeting people, and starting to get on with her life again. Good for you Glenna!
When Glenna was 8 years old, she saw her very first non-Barbie dollhouse. At the time she was told that it was too expensive for her to have. So she did not get her first dollhouse until she was 46 years old. She was staying in Georgia at the time. She went to Hobby Lobby with Jim one day and he told her to pick out a dollhouse for herself. She decided on the Orchid and she has never looked back.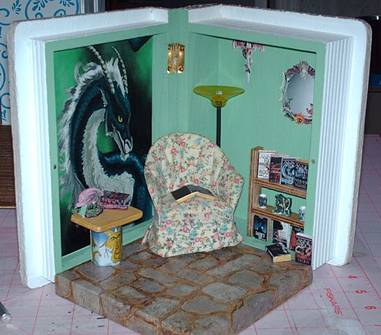 Glenna loves to decorate her dollhouse rooms. She gets into trying to choose themes for them. She sees herself as a builder but only in the sense that she has to build it so she can decorate it. She is not much of a collector except when it comes to frogs. She has also started to collect different little teapots. She likes putting the dollhouse together but really dislikes doing the shingling, windows and doors. Glenna admits that she can mess them up. When she first opened her Orchid kit, she was really excited at first. Then she was a bit overwhelmed when she saw all the pieces to put together. Glenna was getting very frustrated and upset when the kit wasn't cooperating with her efforts. But Glenna did not give up. She found out from a friend, Mari, that she could contact Greenleaf directly. She got help right away and a note telling her to join the Greenleaf forums. Glenna has been a member of Greenleaf ever since.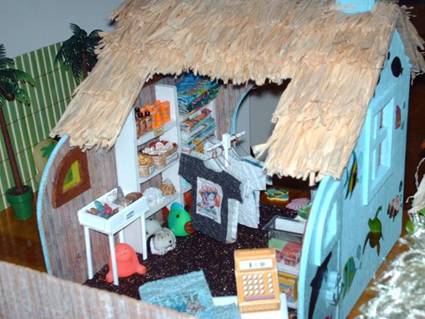 I love Glenna`s miniature dream because it is a dream she and I share. She wants to have a place big enough to hold all the dollhouses, and roomboxes she wants to build. I have the same problem as Glenna. My eyes are a bigger then my square footage! Glenna has two favorite room boxes. One is the Dragon Reading room. She made everything in it but the chair. The other is the M&Ms bedroom. She loves the way the room came out. She made it all except for the dresser and the wallpaper.
Glenna had a beautiful dream house that her late husband was building for her when they lived in Georgia. Unfortunately, it was destroyed when she moved to her current location. She has been trying to find a house that is close to the style of what he was working on. Some of Glenna`s dreams for the future would be to replace that house, she would like to go to a few miniature shows, and she would love to go meet Dean and the crew at Greenleaf. Glenna has a few plans for this year. She would like to finish a few projects that she has started, like her Fairy House and her BlueUni Book shop. She is going to do a contest house for HBS and she wants to get started on her Christmas House. She also wants to being more active on the Greenleaf forums. Glenna says that she would love to try to electrify one of her dollhouses. She thinks if she is brave enough, she will try when she starts her Christmas house. Glenna, just ask for help. You know we are all there for advice and a cheering squad!
You can visit Glenna`s gallery of eye candy here.
For participating as the Member of the Month, Glenna will receive a $25 gift certificate to the Greenleaf Store.
Stay out of the heat and enjoy the rest of your summer!