Welcome to the Greenleaf Gazette!

Fabrics in Miniature

June 2007
Dear Miniature Enthusiast,

The exciting news in the mini world this month is the release of the Washington 2.0 by Greenleaf! As the Greenleaf 60th Anniversary approaches, this house is extra special because it's a re-release of the first house kit manufactured by Greenleaf. Miniaturists are already jumping to acquire the Washington and making plans for their creations. The Washington has a delightful charm and all the potential any miniaturist could ask for. With four large rooms and an attic, there's lots of space, but the neat and compact footprint of the house means it doesn't require a lot of space. It's a great house for either a child or a seasoned collector. Plans for the Washington are being discussed avidly and we can't wait to see the first creations as they're completed. If you haven't seen it yet, visit the Greenleaf Company Store to check out this adorable house!


Deb Roberts
Editor in Chief
---
Textiles in Miniature

By Deb Roberts

One of the hardest mediums to use in miniature is fabric. Normal fabric weave isn't in 1:12 scale, so the fabric doesn't drape, fold or manipulate well into miniature scenes. Without special handling and treatment, most fabric looks bulky or bunchy. However, there are lots of tips and tricks for bringing textiles into the miniature world and giving your house that realistic look we all strive for.

Full story...
---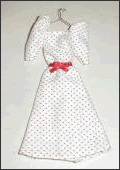 Mini Dress Tutorial

By Melissa Fowler

This lovely miniature gown can be easily used for an evening dress, a wedding gown or, cut shorter, for daytime wear. Add laces, beads and trims for an elegant look.

Full story...
---

Pillow Tutorial

By Deb Roberts

Ever think that a room would be just perfect if only it had a couple of throw pillows here and there? Mini pillows are easier to make than you'd think! Almost any fabric will work for mini pillows as long as the fabric pattern is not too large.

Full story...
---

June's Member of the Month - Meet Teresa!

By Tracy Topps

Teresa (MiniMadWoman) has been a member of the Greenleaf Miniature Community since July 12, 2005. She is a Senior Member and has 3,424 posts that shows her warm & friendly personality. She is always so eager to share her wonderful talent with anyone who has a willing ear (Or should we say eye).

Read more about Teresa...
---
June's Quick Tip

By Thelma the Bear

To age paper for books or documents, you can dip the paper in tea to stain it, and then carefully singe the edges with a stick of incense or a candle. Paper can also be aged by spraying it with lemon juice and carefully drying it in a low temp oven.

If you would like to submit a Quick Tip to the Greenleaf Gazette, please send an email with your tip to deb@greenleafdollhouses.com and include the words "Quick Tip" in the subject line.
---

The Critter Corner!

Just lending a paw!

The famous building team of Linda and Jimmy have a secret partner known only to a few. Meet Chloe, the inspiration and driving force behind Linda and Jimmy's miniature building. Chloe lends a paw whenever it's needed and sleep-tests every house before it's ready for miniature people to move in. We understand that Chloe's favorite house is whatever is under construction at the moment. Here we see Chloe helping out with staircase installation.

If you'd like to submit your pet's picture for consideration for the Critter Corner, you can upload pictures in the "Good Pets acting bad!" or "Good Pets acting cute!" galleries at the Greenleaf Forum.