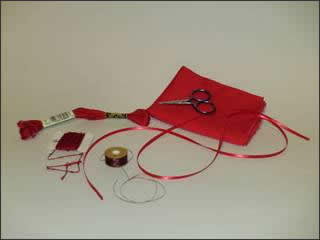 Textiles in Miniature
By Deb Roberts

One of the hardest mediums to use in miniature is fabric. Normal fabric weave isn't in 1:12 scale, so the fabric doesn't drape, fold or manipulate well into miniature scenes. Without special handling and treatment, most fabric looks bulky or bunchy. However, there are lots of tips and tricks for bringing textiles into the miniature world and giving your house that realistic look we all strive for.

Types of fabrics

The type of fabric used is the foundation on which to build your mini textile creations. There are some fabrics which have a tighter, finer weave that looks more realistic in miniature. Silk is certainly the first choice. With its ultra fine weave and soft texture, silk drapes more easily than any other fabric and its soft sheen is also "in scale". Beware of shiny fabrics that have a high sheen to them as the light reflection can throw the fabric completely out of scale.

The lighter the fabric, the easier it will be to drape and manipulate. Satins have a fine weave, but they are a heavy fabric that doesn't drape well. Chiffons and sheers also have a close weave and can be lovely in miniature, their light weight allows them to drape nicely with a little help. The other advantage to chiffons and sheers is that when used as window treatments, they allow natural light to enter the house instead of blocking the light. If your house is not wired for electricity, that's precious light that you'll need!

Quilting fabric (100% cotton) has a moderately tight weave but that quality can vary from store to store. In general, there are three grades of quilting fabrics and the grade is determined by the tightness of weave/ thread count. Discount stores carry the lowest grade of fabric that has the loosest weave. These fabrics can be used in miniature, but are not as effective. If you're using a larger weave cotton, you may want to isolate its use to furniture upholstery. Fabric and craft stores carry a medium grade of fabrics, with a slightly higher thread count and tighter weave. Quilting stores carry the highest quality of fabric with a tight weave and high thread count. Of course, prices are proportionate to the quality, but when buying miniature amounts, the price may not be as much of a factor as if you were buying enough to make drapes for your real house. Most quilting stores carry "fat quarters" for only a few dollars each. A fat quarter is a quarter yard cut "sideways" and is usually more than enough fabric for your miniature project, even if you're dressing a bed. Search the remnant bins in craft, fabric and quilting stores as well, since tiny treasure are easily found there for very low prices.

Cotton/rayon or poly/rayon blends can also work well in miniature since rayon has a smooth, soft weave. Polyesters, knits, wools and other coarse weaves aren't miniature friendly as a general rule.

Velvet has an allure, especially if your miniatures are Victorian themed. However, the heavy weave of velvet doesn't always translate well into some miniature items. Velvet and velour are exceptional for miniature carpets however. The nap of those fabrics is just about in scale with carpet and they are easy to mount to your floors with double-side tape that will not mark the fabric.

Upholstery samples are another great source of miniature carpets and many upholstery stores will sell discontinued sample books cheaply if you ask them. (Some will even give them away) Use your "mini eye" to determine if the upholstery piece will work in a 1:12 scale. Some pieces can be "fussy cut", (cutting out a design from the overall piece) and used for rugs.

Now how do I make it drape?

The trick to realistic drapes, bedding, tablecloths, and clothing in miniature is to have the fabric drape and fold as it would in real life. Fabric is not willing to drape naturally in miniature without some manipulation from the creator. Liquid starch is the best solution for getting the drape in the drapes just right! Always test the starch on a scrap of fabric to make sure that it doesn't stain or leave a watermark on the cloth. For drapes and folds, you can position the fabric and pin it into place. Dip a paintbrush in the liquid starch and brush it on the fabric. Apply it evenly, but make sure it penetrates the weave of the fabric without saturating it. Allow the starch to dry and when you remove the pins, the fabric will remain in its "sculpted form". Some tighter weave fabrics may show the pin holes when the pins are removed, so if possible, place the pins where the holes will not be seen. If a pin hole is left where it's visible, use the point of the pin to gently push the individual threads of the weave back into place.

Putting pleats into window drapes can be done easily with a pleater. Commercial pleaters are available, or you can make your own using a piece of basswood for the base and gluing skinny sticks to it at quarter inch intervals. When using a pleater, lay the fabric on the top of the pleater, centering the middle of the fabric in the center of the pleater. Use a paintbrush to apply the starch and push the fabric down into the grooves of the pleater. Let the starch dry and carefully remove the fabric. Your pleats will stay in place and you'll be ready to cut and hang your drapes!

Valances, bed canopies and other stiff displays are easily shaped by cutting the shape desired from posterboard or cardstock and gluing the fabric to the posterboard. Spray glue is helpful to get an even bond, but as with any other adhesive you use on fabrics, be sure to test it on a scrap first.

To sew or not to sew

Sewing fabric in miniature tends to add bulk that looks unrealistic, so gluing seams and hems is the best way to get a smooth finish to your creations. Liquid starch and products such as ModPodge, Fray Stop or Fray Check can be used on edges to prevent raveling and give a nice finished look. Apply them to the edges, then trim the edge evenly. Use a clear glue such as Tacky Glue for your seams and other bonded areas instead of sewing.

Laces, trims and embellishments

It's not always easy to find trims that work in 1:12 scale, but if you look with a mini-eye you might be surprised at the offerings in your local discount or craft store. Lace comes in a multitude of sizes and styles, and you can fussy cut the lace to fit your project if it's got a bit too much fluff. Many gathered laces are just right for using as a bed skirt, canopy ruffle or window valance. Gathered laces can also be cut at the gathering line so they lay flat. Flat rayon laces work well too and some of them are just perfect for making window blinds and valances. Silk ribbon is readily available in 3mm and 5mm widths which make lovely tie-backs for drapes. If you're using chiffon or sheer fabric, silk ribbon can be glued to the edges of your fabric instead of glue or Fray Stop. Silk ribbon is also a nice touch for covering seams you don't want to show.

Going thru the trim and embellishment section of the craft store can be inspiring with all the choices available. Pre-beaded fringes can be used for bed canopies or valances, and some braided trims can even be used for crown moulding with a simple coat of paint over the top after you've glued it to the walls. Beads are a treasure and can be used for anything from beaded curtains to buttons on dresses and pillows. A look thru the buttons and charms can even yield tiny treasures for knick-knacks on your parlor shelves or perfume bottles for your bedroom or bath.

Be Creative!

Your choice of colors and designs is certainly not limited to what you find on the shelves. Give yourself permission to be creative and pick up some plain white cotton or unbleached muslin, then sit down with a set of watercolor paints. Yes, fabric can be painted!! While you wouldn't want to paint fabrics that need to go thru the washing machine, your miniature fabrics have no need for caution. Fabrics, laces and silk ribbons are easy and fun to paint or dye. You can find commercial fabric paints or dyes, or create your own with watercolors or food coloring. Don't hesitate to mix up colors and experiment with blending.

Spray or dip the fabric in water first so the fabric is moist, but not saturated. Then use eye droppers, paint brushes, tooth brushes or other applicators to get the pattern you want. You can also tie-dye in mini using thread instead of string, and you can dip whole fabrics for an even color. You can even make mini batiks by dripping wax on the fabric before you paint or dye it, then scraping the wax off with your fingernail after the fabric has dried. Whether you want a solid color, a muted tone on tone texture, or a wild display of fantastic colors, it's all in your control.

Sources for textiles

Obviously, craft, discount, and fabric stores are the most popular locations for fabrics and trims, but they can be found in other places too. Men's ties are a great source of fabric for minis and most men would be more than happy to part with a few for your good cause. Garage sales and thrift stores are a treasure chest of fabrics. Since you're not shopping for clothes to wear, look at the fabrics rather than the type of clothing. Even a well-worn or stained silk shirt can yield up enough fabric for your mini project and you can usually get them for pennies. Baby sleepers and washcloths have a fine weave just perfect for mini towels and old drapes can be used for upholstery or carpet. Keep an eye on sales racks as well. Sometimes you can find a shirt, skirt or lace curtains on sale for a couple of dollars that will give you that perfect mini fabric you've been looking for.

Let your imagination go and have a good time with textiles in mini! You may just discover a new passion in an already passionate hobby!

Back to the June Newsletter...