Welcome to the Greenleaf Gazette!

Everything Old is New Again!

March 2008
Dear Miniature Enthusiast,
This month, we're taking a look back at miniatures. Greg brings us fascinating information about antiques and ways to realistically emulate antiques in your own dollhouse, and Ann Woldt shares a story of the passion and work that is involved in rehabilitating an old dollhouse. We've also got part two of Kevin Loving's landscaping stones so it promises to be an exciting issue!

Please join us in welcoming Havana Holly to the Gazette crew. For those of you who know Holly from the Greenleaf forum, you know she's a treasure trove of mini tips, tricks, and timely advice. Holly will be bringing us the Quick Tip each month and we're looking forward to her gems of wisdom each month. Welcome Holly!

Don't forget to check out our Spring Fling Contest! Besides the great prizes, the winner gets to name this new house! There is a coupon at the bottom of this newsletter so you can still get this cutie for $8.95 and it includes free shipping on your entire order! Even if you're not interested in the contest, this is still a great deal.
Deb Roberts
Editor in Chief
---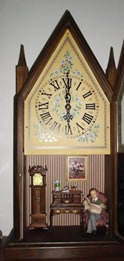 Antiques and Miniatures

By Greg Dostie

Prepare yourself for a tour of some of the most delightful scenes of antiques and miniatures we've ever seen as Greg shares his passion and expertise with us. From life size to miniature, Greg explores the world of Victorian décor and brings us tips and tricks to give the most realistic look to your miniature scenes.

Sometimes it's hard to tell the difference between his real life collections and the miniatures! As you read thru this article, you'll think your eyes are playing tricks on you. Just about the time you're convinced you're looking at a life size room, you'll see that it's actually a room in a dollhouse. We think the ultimate compliment is "I couldn't tell the difference!" and Greg is a master of that art.

Full story...
---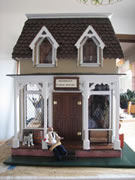 Bringing an old house back to life!

By Ann Woldt

Sometimes it happens... you see a sad and neglected dollhouse hiding in the corner of a thrift store or set out on a curb for the garbage men to pick up. Something tugs at your heart and you just can't leave that poor, unloved house behind, so you gather it up and take it home where it can be loved and brought back to life.

This month the Gazette is delighted to share the story of Ann's spectacular rehab of a Brimble's Mercantile.

Full story...
---
Romancing the (landscape) Stone:
One Man's Adventure in Making Authentic Looking Landscape Stones (Part 2)

By Kevin Loving

This month, Kevin discusses the types of materials used for mixing and coloring your stones. This is a continuation from last month when Kevin shared his way of creating stepping stones in miniature. Follow along with this multi part series to learn how to make your own unique and fabulous miniature stones!

Full story...
---

March Member of the Month - Meet Dawn!

By Heidi Cleveland

I would like to introduce you to our March Member of the Month, Dawn (Violet2Dawn). She has been a member of the Greenleaf community since July 3, 2007. Dawn resides in the state of Connecticut and is my miniature neighbor. I have met her in real life and she is a great person to know.
---
Havana Holly's Quick Tips!

From HavanaHolly

You can make a sanding block from scrap lumber or scrap kit wood and trim the piece of sandpaper that comes in the kit to fit across the bottom & sides and on either side of the top, and staple it on aong the top sides. Mine is a piece of scrap lumber 2.5" wide & 3.75" long & 5/8" thick with a handle made from 1" square stock cut the length of the scrap wood & glued lengthwise along the center of the top side. It will handle door openings as well as long edges & flat surfaces, and the handle gives some control. Often the sandpaper will last through more than one kit, so I tend to save the other pieces from other kits to use as bulletin boards, walkways and tiles or bricks.
---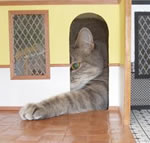 The Critter Corner!

Lending a helping paw!

Hope's mom Traci says that her furry little helper is holding down the tile till the glue dries. What a great little assistant she is! Or could it be that she's seen cartoons with those curved mouse doors and is casting around for a tasty snack?

Thank you Traci for sharing such a cute picture of Hope with us! Hope will receive a $25 gift card from Petsmart for being our Critter of the Month.

If you'd like to submit your pet's picture for consideration for the Critter Corner, you can upload pictures in the "Good Pets acting bad!" or "Good Pets acting cute!" galleries at the Greenleaf Forum.