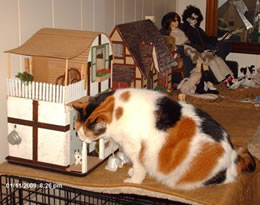 The Critter Corner!

New Tool in the Dollhouse World - The Kitty Clamp!

Finding clamps to hold things in place while the glue dries can be a tricky task. Llyn seems to have solved the puzzle of how to get fence posts to stay in place by assigning the job to Nikki. Here we see Nikki diligently at work, holding the fence post straight and in perfect alignment. Good job Nikki!

Actually, we're just assuming that Nikki is being helpful and this is not another case of "cat eats dollhouse". We'll give Nikki the benefit of the doubt that she's devoted to helping her human build dollhouses.

Thanks to Llyn (LLyn M.) and Muis for sharing such a cute picture with us. They'll receive a $25 gift card from Petsmart for being featured in this month's Critter Corner. Edit by Dean: Hope they have a Petsmart in the Netherlands or we'll find a similar store.

If you'd like to submit your pet's picture for consideration for the Critter Corner, you can upload pictures in the "Good Pets acting bad!" or "Good Pets acting cute!" galleries at the Greenleaf Forum.