Welcome to the Greenleaf Gazette!

A Skeleton Extravaganza!

September 2008
Dear Miniature Enthusiast,
There's a slight nip in the air, a faint whiff of wood smoke carried on the wind, and pumpkins are appearing in every grocery store. Yes, it's that favorite time of year for miniaturists when our imaginations run wild. Halloween is coming!!!

This month's Gazette brings all the best tricks and treats for skeletons as well as lots and lots of Halloween eye candy! Oh, and be sure to check out the Product Pick of the Month to see what's new for Halloween at the Greenleaf store for your life size house!

A quick shout out to Steve_in_PA for helping out with the Hurricane Relief Event that's going on over at Hobby Builders Supply. Visit the Greenleaf Blog for more details.
Deb Roberts
Editor in Chief
---

Skeleton in the Closet

By Deb Roberts

Every family has a few skeletons in the closet, and this time of year, it's always fun to show them off! In my family closet, we have Old Aunt Harriet. If the truth be told, Aunt Harriet had a taste for wine, but no one liked to talk about it. Of course, Aunt Harriet never admitted to it either, but at least one family photo caught her in the act. As long as we're exposing a family secret, we'll also share how to make this cute Halloween mini.
---

The Face in the Mirror

By Deb Roberts

Here's a quick and easy Halloween mini that's so much fun to do! In just a few minutes, you can make this Face In The Mirror that's perfect for any haunted house.

Full story...
---

Death Takes a 'Little' Holiday!

By Deb Roberts

Join us for a whimsical Halloween tour on the Grim Reaper's party boat!

Full story...
---
---
July Member of the Month - Meet Redneck Princess!

By Heidi Cleveland

I would like to introduce you to our September Member of the Month, Kathy (Redneck Princess). Kathy has been a member of the Greenleaf forum since September 18, 2007. Happy one-year anniversary! Kathy may only be a relative newbie to our forum but she is a great person and always has something to give in the forms of advice, praise, and laughter.
---
Havana Holly's Quick Tips!

By Holly Parker

FIREWOOD: You have simulated bricks in your fireplace with bits of sandpaper or paperclay or spackle and you even gritted your teeth and make them look perfectly sooty with grated charcoal or black chalk pastel, but something is still missing! Wanna bet it's firewood? Well while you're outside scouring the ground for bits of brroken jewelry or toys that can be cobbled into minis, or dropped loose change to drop into your "mini-fund" jar, wander over towards the parks and lawns and pick up the fallen twigs. Take them home, spray them down well with insecticide and when the vapors dry wrap your twigs in aluminum foil and pop them into an oven you preheated to 450 or 500 degrees and turn it off. Next morning, or when the foil package is cool enough to hold comfortably in your bare hand, take it out of the oven and pop it into the freezer for a day or two. Repeat this cycle of hot and cold at least one more time and you ought not to have any wee beasties in your twigs. Wash them off to remove any dirt and let them dry. Cut them into lengths from 1/4" to 5/8" and glue them into piles or stacks. When they're dry, seal them and put them into your fireplace or log basket.
---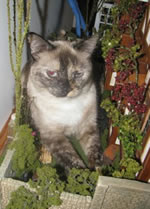 The Critter Corner!

We need a bigger garden!

While it may be a little cramped for space, this Glencroft garden makes a lovely place for a cat nap! Our thanks to Bookmarm (Gayle) for sharing this great picture with us. She'll be receiving a $25 gift card from Petsmart.

If you'd like to submit your pet's picture for consideration for the Critter Corner, you can upload pictures in the "Good Pets acting bad!" or "Good Pets acting cute!" galleries at the Greenleaf Forum.