Welcome to the Greenleaf Gazette!

Mini Halloween Furnishings

September 2009
Dear Miniature Enthusiast,
Have you heard? Have you seen it? The Beaumont is back! And boy, when it came back, it came back beautiful! This Beaumont is laser cut and that means that it has so many beautiful features that it's truly the most elegant dollhouse ever made. Wait till you see what Greenleaf did to the front door! And that's just the beginning. Drop by the link above and see the Beaumont Dollhouse... and be prepared to drool. It's not too early to think about the perfect Christmas present for your favorite miniaturist (or yourself) and the Beaumont would be the most fabulous gift under the tree!
September is always our big Halloween issue and this year is no different. We're going to show you how to make some cool and creepy furnishings for your mini Halloween scene. From a fun leg lamp to a funny chair and even a glowing crystal ball, we've got your mini Halloween decorating covered.

Oh, and be sure to check out Tracy Topps' Rosedale in the links to the left. Tracy's Rosedale is one of the very first of the laser cut Rosedales to be completed and you won't want to miss seeing this one!
Deb Roberts
Editor in Chief
---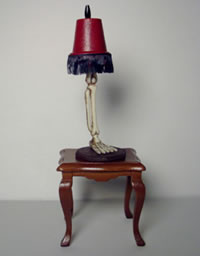 Halloween Leg Lamp with Fringed Shade (Bonus: Tutorial for skeleton picture frame!)

By Deb Roberts

Who says that leg lamps are just for Christmas? This creepy and kinda cool leg lamp is just what you need to add the finishing touch to your Halloween parlor scene. And as an extra added bonus, we'll use the leftover arms to make a picture frame!
---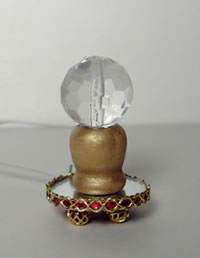 Lighted Crystal Ball

By Deb Roberts

Every little witch or wizard needs a crystal ball in their mini scene and crystal balls are easy to make. But what about taking it one step further and giving that crystal ball an eerie and lifelike glow! It's easier than you think!
---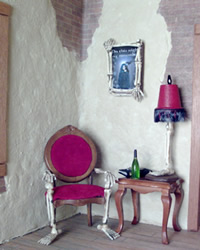 Spooky Halloween Chair

By Deb Roberts

Most chairs have legs and arms, but this chair REALLY has legs and arms!! It's a simple conversion process that even Dr. Frankenstein would find easy to do. In just a few minutes, you'll have given an old Victorian chair new life as the perfect Halloween prop.

Full story...
---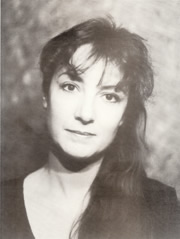 Member of the Month - Meet Shy Spirit

By Heidi Cleveland

I would like to introduce you to September`s Member of the Month, Rosalind (Shy Spirit). Shy has been a member of the Greenleaf forum since June 13, 2006. Shy has a flair with color and details in her miniatures. She is also a great person to talk to on the forums.
---
Havana Holly's Quick Tips!

By Holly Parker

Quickie Rugs: When you look through those home-decorating magazines at the ads for rugs, have you ever thought, I wish I could find something like that for my dollhouse? Well,you just did. This tip from Helen Ruthberg will make a great addition to your dollhouse. Carefully cut out that picture and cover it evenly wiith a thin layer of tacky glue and smooth a single ply of facial tissue over it and dab it with a wet cotton ball to work out any bubbles. When it's dry, you can glue strips of raveled grosgrain ribbon to the ends for fringe and then glue a piece of plain fabric to the wrong side of the picture to cover the printing.
---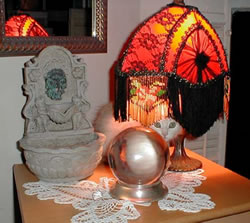 The Critter Corner!

I foresee a broken lamp in your future

Mippy gazes into her crystal ball and sees much about the future. She sees Monica building lots more dollhouses just for her to play in. We're not sure if that's wish fulfillment or if she really can see into the future but we're hoping that she's right! However, at the moment Mippy is more concerned with getting out from under the lamp without being caught.

Thanks to Monica and Mippy for sharing such a cute picture with us. They'll be receiving a $25 gift card from Petsmart for being featured in the Critter Corner.

If you'd like to submit your pet's picture for consideration for the Critter Corner, you can upload pictures in the "Good Pets acting bad!" or "Good Pets acting cute!" galleries at the Greenleaf Forum.