Welcome to the Greenleaf Gazette!

Tips for Interior Design

May 2007
Dear Miniature Enthusiast,

Ask almost anyone who builds or collects miniatures and they'll tell you why they're addicted. It's our own little world and it comes to life under our hands. We inhabit our little worlds with miniature people and pets, and weave story lines around them. Our flights of fancy have a home in miniature, and our grand ideals can become a reality. In this issue, we'll take a look at how fantasy and fancies can become reality in miniature.

I hope everyone had a safe and enjoyable Memorial Day. Please remember that May is also Military Appreciation Month, so I have included a link to a web form at America Supports You where you can send a message of support to our servicemembers.

Deb Roberts
Editor in Chief
---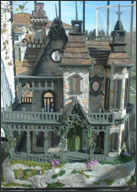 Flights of Fantasy

By Deb Roberts

Magical settings have fascinated humans since the beginning of time. We're entranced by fairies, trolls, wizards and magicians, but quite often, people only get the opportunity to see these delightful things in their mind's eye... unless they're a miniaturist and then anything is possible. One of the greatest things about miniatures is that we can bring our fantasies to life in smaller scale. Houses and settings that are only conceived of in our imagination can come to life under our hands in miniature.

Full story...
---

The Sprig of Holly Pub

By HavanaHolly

As a young man in the Navy, Porter Stout spent most of his career frequenting various bars and other public establishments of dubious pleasures and getting thrown out of them, that he decided when he retired to become the proprietor of his own establishment.

Full story...
---
How to Build a Wishing Well

By Deb Roberts

Spring is in the air and a miniaturist's thoughts turn to landscaping. This month, we've included a tutorial on how to build a wishing well for your favorite mini yard or garden. It starts with an inexpensive wishing well from the craft store and ends up with a mossy brick well that will be the delight of any elf, gnome or garden creature.

Full story...
---

May's Featured Member of the Month - Meet Heidi!

By Teresa Martens

Heidi (heidiiiii5) has been a member of the Greenleaf Miniature Community since January 31, 2006. With 4,220 posts (and counting) Heidi makes us laugh with her wry sense of humor and puts us in awe of her compassion for animals and children. In fact, she has owned so many animals that she could write a remake of the movie "The Truth About Cats and Dogs"!

Read more about Heidi...
---
May Quick Tip

By Charlene

To make quick filler books, simply take small blocks of wood or punch-out scraps, score them to imitate spines, and paint them to look like books.

If you would like to submit a Quick Tip to the Greenleaf Gazette, please send an email with your tip to deb@greenleafdollhouses.com and include the words "Quick Tip" in the subject line.
---

The Critter Corner!

Boo Who?

This adorable little mini is 'Boo', the newest addition to Heidi's home... and apparently to her Marquam Hill Mansion! Boo fits into the house purrrfectly and seems to be quite appreciative of the crystal chandelier in the foyer. Of course, as a Siamese, he expects gracious living and we're sure Boo will live in the lap of luxury with a mansion already under his paws. Boo will receive a $25 gift certificate from Petsmart for being featured in the Critter Corner this month!

If you'd like to submit your pet's picture for consideration for the Critter Corner, you can upload pictures in the "Good Pets acting bad!" or "Good Pets acting cute!" galleries at the Greenleaf Forum.