The Sprig of Holly Pub

By HavanaHolly

As a young man in the Navy, Porter Stout spent most of his career frequenting various bars and other public establishments of dubious pleasures and getting thrown out of them, that he decided when he retired to become the proprietor of his own establishment.

It is the nature of time to pass, and eventually he did retire and return home to find and marry Emma Little, the girl he'd left behind (he joined the Navy to flee her shotgun-wielding Papa because, in an effort to get him to marry her, she'd told him she was pregnant!) and to buy and restore the old rundown Tudor pub in town.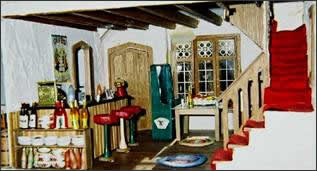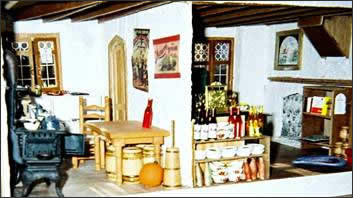 With its fresh wash of ox's blood on the plaster and scrubbed bricks and timbers, replaced roof slates and freshly painted picket fence & signboard he opened for business.

Porter has lost some of his boyish charm, but he sports tattooed forearms as souvenirs of his seafaring. Emma has broadened a bit, as well as her horizons, owing to the excellence and bounty of her cooking. They live upon the premises, as the Snug upstairs doubles as their living quarters.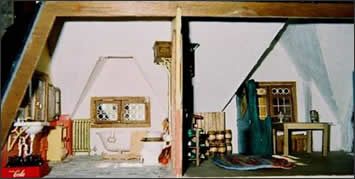 Hermione Sottisher married Bartie Barfly after they met in a Planet Hollywood where she had entered a "Golden Girls' Wet Tee Shirt" contest and won second prize. (The bartender there had received his DD online from the Church of the Holy Bender, and he married them at closing time.) They returned home and were both rather mildly surprised to discover they were both natives of Twiddly-upon-Thumb and had never previously met (despite there being only a single one-room school). They traveled extensively for several years (there being no other drinking establishments in Twiddly-Upon-Thumb) until Porter & Emma reopened the pub, where they are now regulars.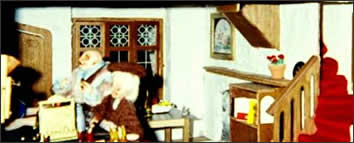 Hermione's younger sister Abigail is a maiden lady who lives in an obscure, at present, lodging with her older friend, Ruth Bibberly, also a maiden lady. They have a fondness for good home cooking and neat Scotch, so the Sprig of Holly finds them ensconced in their favorite booth.

The Sprig of Holly has been a pub at the crossroads in Twiddly-upon-Thumb for centuries (since the Tudor era, thank you very much!) and has seen and heard many such stories.