Welcome to the Greenleaf Gazette!

Miniature Landscaping Tips and Tutorials

August 2007
Dear Miniature Enthusiast,

This month, the Gazette takes a look at landscaping in the miniature world. From grass to trees, creating that perfect miniature yard or garden usually involves an ongoing search for those tiny garden treasures in 1:12 scale. We'll take a look at some inspiring miniature landscapes created by members of our Greenleaf family as well as some tips and techniques for where to find landscaping materials, and how to create some great lawns and gardens. So grab a glass of lemonade, sit back and join us as we take a look at some fabulous landscapes in miniature.

Deb Roberts
Editor in Chief
---

Landscaping in Miniature

By Deb Roberts

As miniaturists, we strive to put as much detail into our little homes as we can, but when it comes to the great outdoors, sometimes it's hard to get the landscaping details we want. Many miniaturists consider landscaping to be a challenge, but we're about to put that myth to rest and show you just how easy a miniature yard or garden can be!

Full story...
---

Miniature Tree in a Planter

By Deb Roberts

One of the challenges to getting a mini tree to fit into a landscape is that larger trees don't always want to cooperate by standing up on their own. Unless you're making a haunted house or a storm scene, having your tree falling into the side of the house is less than desirable. However, putting a planter around the tree not only keeps the tree upright, but it adds charm, and makes the tree a focal point of your landscaping scene.

Full story...
---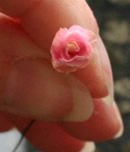 SusannaT's Flower Tutorial

By Susanna Tunturi-Anttila

Come and see how Susanna makes tiny paper roses that would be just as beautiful by any other name.

Full story...
---

August's Featured Member of the Month - Meet SuzyQ!

By Teresa Martens

Suzanne (SuzyQ) has been a member of the Greenleaf Miniature Community since February 13, 2006. With 1,642 posts (and counting) Suzanne entertains us with her wry sense of humor and shows her warmth and compassion as a mother and mentor to girls less fortunate.

Suzanne entered into the world of miniatures at the request of her fourteen year old daughter 'RayAnne' who wanted a miniature doll house. They got on the internet and started looking. RayAnne's granny and papaw bought her 'The Garfield' by Greenleaf for Christmas. That house has become their mother/daughter project.
---
August Quick Tip

By By Irene Kealy

I always have WD-40 on hand...I like to use quick grip for siding and we all know how messy that can be. Really great for removing glue from anything like your hands or especially if you get any of the plastic windows. If you use a soft cloth it takes it right off without scratching them.

If you would like to submit a Quick Tip to the Greenleaf Gazette, please send an email with your tip to deb@greenleafdollhouses.com and include the words "Quick Tip" in the subject line.
---

The Critter Corner!

If you please...

Ask any Siamese and they'll tell you that the entire world belongs to them. Sapphire believes that her human makes delightful miniature houses just for her and she's chosen Greg's Magnolia for her nap. From the look on her face, napping in a Magnolia may be one of the greatest pleasures in life!

Thank you Greg for sharing this picture of Sapphire. Sapphire will receive a $25 gift certificate from Petsmart for being August's critter of the month.

If you'd like to submit your pet's picture for consideration for the Critter Corner, you can upload pictures in the "Good Pets acting bad!" or "Good Pets acting cute!" galleries at the Greenleaf Forum.