Featured Member of the Month - Meet SuzyQ

By Teresa Martens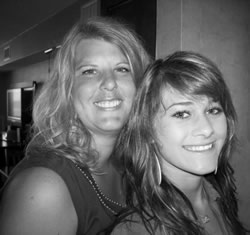 Suzanne (SuzyQ) has been a member of the Greenleaf Miniature Community since February 13, 2006. With 1,642 posts (and counting) Suzanne entertains us with her wry sense of humor and shows her warmth and compassion as a mother and mentor to girls less fortunate.
Suzanne entered into the world of miniatures at the request of her fourteen year old daughter 'RayAnne' who wanted a miniature doll house. They got on the internet and started looking. RayAnne's granny and papaw bought her 'The Garfield' by Greenleaf for Christmas. That house has become their mother/daughter project.
The best part of miniatures for Suzanne is the feeling of accomplishment she gets when something turns out well. And the shopping! They have found "the cutest little mini store you have ever seen". The store is actually a tiny little house that looks like a miniature doll house and the sweet elderly woman who owns the store looks like a little doll.
What's the worst part of mini-ing for Suzanne? The mess and sorting through all the pieces . . . ugh!
As the 'Garfield' is the first house she's built so far, it's her favorite. You can tell by the amount of work that has gone into the house making everything just so. And who wouldn't consider it a favorite when working together with one's daughter! You can view their lovely house here.
Suzanne's goals for the future are to finish the Garfield and to start on the 'Haunted House' they won back in October of 2006. The plan is to turn it into servant's quarters for the 'Garfield'. RayAnne has a Victorian porcelain doll named 'Sofia' who is a wealthy career woman who will be living there with her elderly father.
Suzanne has been married to her husband 'Ray' for twenty-two years come September, and they share their lives with their fourteen year old daughter 'RayAnne' who is the sunshine of their lives. Suzanne works outside of the home with her husband building life size houses. The house they are currently living in was built by the two of them. And they're still married!
Suzanne and her family also work with a local children's home so they have borrowed kids coming out of their ears! This is work that they love. They also help with the youth at their church and Suzanne teaches three and four year old classes once a month . . . she also works in the nursery being known as a baby magnet!
Suzanne also enjoys all of her friends on the Greenleaf forum and even if she isn't currently working on the Garfield, she still pops in everyday to see how everyone is doing or just to have a good ol' chit-chat.
As our 'Featured Member of the Month', Suzanne will receive a $25 Gift Certificate to the 'Greenleaf Store'. Congratulations, Suzanne!