Landscaping in Miniature

By Deb Roberts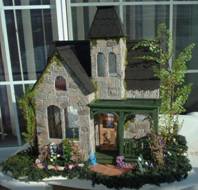 As miniaturists, we strive to put as much detail into our little homes as we can, but when it comes to the great outdoors, sometimes it's hard to get the landscaping details we want. Many miniaturists consider landscaping to be a challenge, but we're about to put that myth to rest and show you just how easy a miniature yard or garden can be!

Retail offerings of miniature flowers, shrubs and garden items are available, but can sometimes be costly when you're working with a large area. However, they are delightful and can add a lot of charm. It's nice to add a few of those items into your landscaping, but they don't have to be the main source of your greenery.
What can I use and where can I find it?
The most difficult part of landscaping is finding items that work in 1:12 scale. You might be surprised at how available greenery is at your local craft store, or in the artificial flower section of a discount store. Take a close look at the sprays of flowers and plants in those stores and you might be surprised at how many minis there are there! When you're going thru those plants, watch for small clusters of leaves that could be mini bushes, or large fronds with small leaves that can be used as trees. Don't forget to look in the dried flower section as well, since many sprays of dried flowers are perfect for 1:12 scale trees!
A sometimes forgotten source of landscaping supplies is the aquarium section of the discount stores or pet stores. Many of the plants work well in mini, and bottom cover 'grass' for breeding fish can be snipped apart for bushes and flower bed filler. You can also find some great accent pieces like statues and bridges.
Filler flowers are abundant in the artificial flower sections and those little blossoms can be just right for miniature scale, whether you're creating a flower bed or filling a window box. Don't forget to stop by the wedding sections too! Not only can you find tiny flowers there, but you might also see the perfect pillar or gazebo in the cake decorating section.
If you're not quite confident about your mini-eye, take along a piece of cardboard with a one inch square cut out of the middle. Hold the cardboard so the square hole is positioned over the leaf or flower and you'll have an immediate perspective of how that greenery would look in 1:12 scale. Remember that one inch equals one foot and you'll know if that plant will work in your mini scene.
Another great supplier of miniature landscaping materials is any hobby or craft store that caters to model train builders or holiday villagers. While these items are much smaller scale, you can find 'seedling trees', 'snow', bags of turf and reindeer grass, and clumps of lichen and green poly fiber that can be used for ground cover. Most HO scale rolls of artificial grass can be easily used in 1:12 scale and the cost at hobby stores is usually much less than miniature retailers.
Depending on the look you're going for, there are many different choices for grass and ground cover. The varieties of grass rolls are numerous and you can take your pick of different shades of greens and textures. For a more loamy look, you can use tea leaves or coffee grounds for dirt and add a scattering of coarse turf or poly fiber to the top. Ground filler such as reindeer grass or lichen gives a delightfully rustic and woodland look to your scene. The experts at the Greenleaf forum have a multitude of suggestions for creating grass that can be found in our hot topic link this month.
You can also use Paperclay for stonework and add moss for a rocky surface, or for use around a riverbank. Tracy shows us a delightful example of landscaping with stonework, coarse turf, and a tree made from an artificial fern.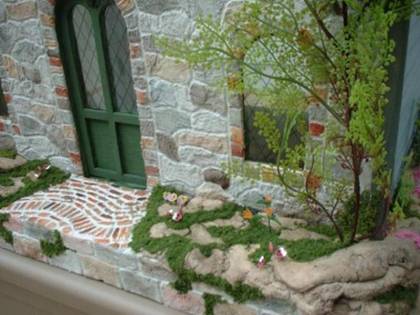 Now that I have it, how do I keep it in place?
Miniature landscaping is easier to assemble than one would think! Spray adhesives work wonderfully well for applying your grass or ground cover. Simply spray the adhesive on your foundation (heavy cardboard, plywood or mdf) and add your grass or ground cover. If you use spray adhesive, always work in a well ventilated area. Once your ground cover is in place, you can begin adding in your flowers, greenery and features. A hot glue gun works wonderfully well for this! Not only does it dry clear, but it hardens quickly and holds tall items in place very well. You can create a small "mound" of glue to hold a tree or bush in place and then cover the glue with smaller bits of foliage to hide it. You can also glue items together so that they provide support for one another. Tracy gives us a great tip about using hot glue in landscaping. If you have "spider webs" of the hot glue on your finished scene (and we all do), use a blow dryer on them! The spider webs will melt down and be absorbed into the scene, giving a teeny glisten like dew. You can also use tacky glue on items that might melt under hot glue. (Another tip for giving your landscaping surface a dewy look is to spritz a few sprays of clear lacquer over the surface.)
What about those really cool accent pieces and features?
Accent pieces always add charm and interest to miniature landscaping, whether they come in the form of statuary, a birdbath or wishing well, or a water feature. Be creative when considering the features for your garden or lawn! Animals and people add life to a scene, so incorporate items such as benches where little people can sit and admire the view, or a doghouse for that special pet.
Susanne shows us how including people and pets into a landscaping scene brings them to life.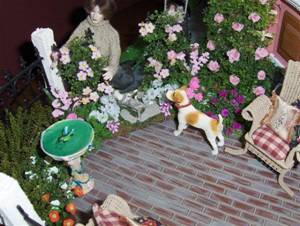 In this scene, Susanne added a rabbit hutch to the side yard. The scene looks so realistic, that one feels you could step right in!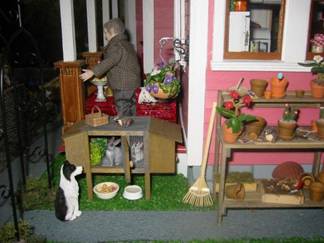 And in this delightful scene, Susanne not only uses features such as benches and a water pump, she also brings the scene to life by positioning her teddy bears so that they are active participants!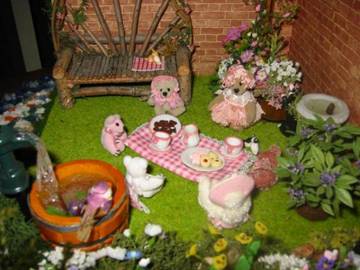 Water features are another terrific accent in landscaping, bringing life and a fresh look to your scene. Tiny details such as animals, fish or birds added to the water promote that realistic look.
Teresa added a duck pond to the yard of her Mother Goose house that is delightful! You can almost hear the ducks quacking with joy as they head into the water!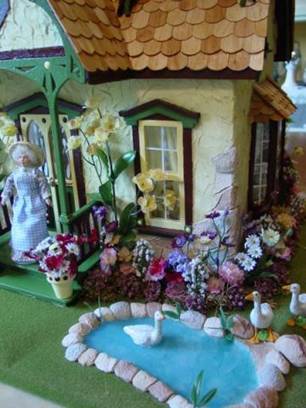 Jeninky created this delightful fish pond. The details such as the plants and rocks, give this mini pond a look that invites you to take off your shoes and dip your toes in the water.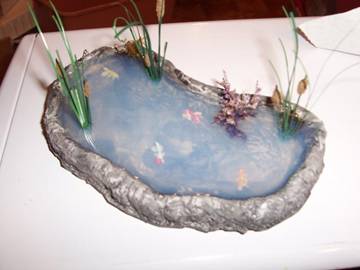 Water features are easy to create with acrylic water which can be found at craft stores, miniature retailers, or your local discount store. Check the floral section for acrylic water kits used for creating flower arrangements. (It's usually located by the glass marbles) Your only limitation to your water feature is your imagination. Everything from elaborate fountains to rain barrels under downspouts is easy and fun to create. To create a thin stream of running water, simply use a length of silver jewelry wire and spiral wrap it in twists of saranwrap. Glue it in place and you'll have a realistic looking stream of water!
Nancy shows us how a well placed fence and a graceful bench can create a serene garden in this miniature scene created in an urn. The lanterns in the background complete the detailing for this little charmer.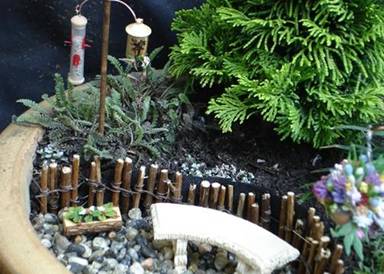 Josi's beach house incorporates lots of detailing that give the impression that the little people have just run down to the ocean for a dip in the water and will be right back for a cool drink and a hamburger fresh off the grill (if that seagull doesn't get to the grill first!).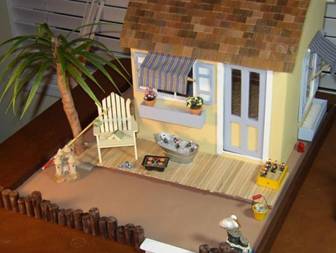 And, of course, features such as a well placed fence or an arbor give a focal point to any landscaping scene. Teresa shows us how welcoming a vine-covered arbor gate can be!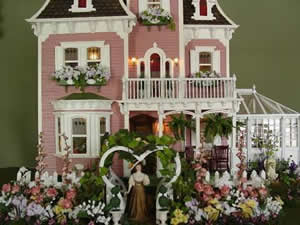 Miniature landscaping adds charm and realism to your tiny home and is as much fun as building or furnishing your house. Give it a try and watch your creations come to life!
Back to the August Newsletter...