Collector`s Cabinet

By Heidi Cleveland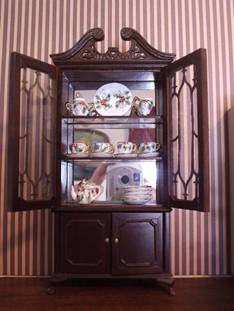 I would love to take this opportunity to wish everyone a Merry Christmas, Happy Hanukkah, Blessed Yule and a Happy new Year.
Since this edition of the Collector`s Cabinet falls in December, I thought we could have a holiday themed collection. We are going to see some beautiful holiday miniatures this month from Audra, Kelly, and April.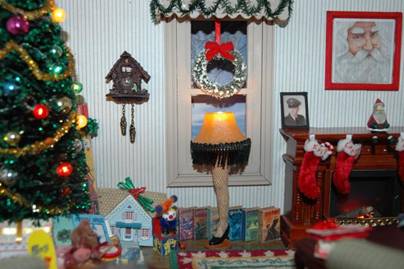 Audra is most proud of this Leg Lamp in the roombox scene above. She loves the movie The Christmas Story. The lamp is so simple but it is special. It is actually a Hallmark ornament. Audra hollowed out the center by using drill bits. She started small and worked it until she got to a larger hole. She then added the light. The lamp had been going into different dollhouses but it finally found it`s permanent home in her Holiday roombox. Audra admits that she never really searches for a particular mini, she just stumbles upon them. She never really knows what she wants until she sees it. She does not think she would ever own a real life lamp like this in her own home but maybe during the holiday she would because she thinks it is just a little goofy.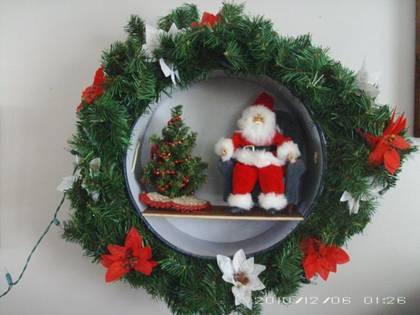 Kelly (Kellee) says that her favorite Christmas miniature is her Christmas roombox. It is not finished yet because every year she adds something new to it. She has been picking up pieces for this treasure all year long. The box came from a department store, the chair from JoAnns Fabrics, and the Santa from Lazarus. She had seen a wreath box kit in a catalog but it was a bit too pricey. so she started searching for something that would work for her. She found the hat box, cut a piece of wood for the floor, bought a wreath to fit around the hatbox, added a string of lights, and then a touch of poinsettia. Voila! It is wonderful! This miniature tells Kelly that she believes there really is a Santa Claus. He is everywhere and during this season he comes in all forms from friends and strangers to those in need. Kelly and her family were struggling last year as many of us know. Her Santa Claus came in the form of friends and strangers that helped her family give her children a wonderful Christmas. I believe too Kelly!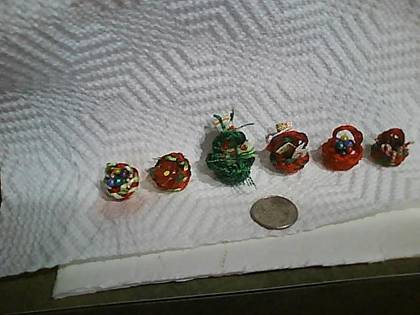 April (DHGranny) loves her tiny half scale set of six Christmas baskets that contain teeny weeny candy canes, gifts, cards, and poinsettias. They are her prized holiday mini items. She had just learned how to make baskets and decided to make some for Christmas. She used embroidery thread to make the baskets and added the extra touches. She did not make them specifically for any house but she loves smaller scales. She is thinking of using them in the Rosedale if she can get it finished before the end of the month. She loves baskets and loves the country feel that baskets provide in a decor.
I want to thank everyone for participating this month in the Collector`s Cabinet. Let us hope that I find some really great minis to showcase in 2011!
Happy New Year!