New Year's Resolutions for Dollhouse Devotees

By Deb Roberts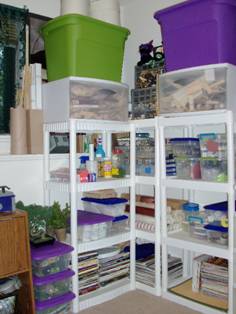 It's the time of the year when you hear it among friends, around the water cooler, and all over the media: 'What's your New Year's resolution?' The New Year truly is an excellent time to review the past to determine what's worth keeping and what needs a fresh start but it seems that the biggest problem with resolutions is actually keeping them. A lot of people say that they don't make resolutions because they feel they probably won't carry thru and that creates a sense of failure. I can certainly understand that concept, but it occurred to me that we miniaturists have a much better chance at achieving those elusive goals. Let's consider some of the most popular New Year's resolutions and how they can be more easily achieved simply by building dollhouses!
The number one New Year's resolution is always losing weight. That's a subject that weighs on some folk's mind all year round but after all those holiday meals and goodies even those not inclined to dieting are giving some thought to dropping a few pounds. That's why I recommend the Dollhouse Diet! Experienced dollhouse builders will tell you that there's a mental state known as 'The Zone' that occurs when we sit down with a partially constructed dollhouse in front of us. When we're in The Zone, everything else ceases to exist except the focus on turning our mini dream into a reality. We paint and glue and saw and sand to the exclusion of everything else. In The Zone, we quite often lose track of time and sometimes we even forget to eat.
Mmm hmmm. Now you're catching on! The urge to snack between meals is completely conquered when we're caught up in turning a stack of wood into a perfect Victorian mansion. Call it behavior modification if you will, but the end result is still the same—the urge to snack no longer exists when you're focusing your energy on building a dollhouse.
Of course you may want to consider having a support system in place to help you while you're on the Dollhouse Diet. I've tied setting an alarm to remind me when it's time for regular meals but I've discovered that when it goes off I usually just smash it with my EZ Cutter and go back to sanding crown moulding. So you might want to make sure someone else is around to come in and assist you with getting away from the wood and into the kitchen. Keep in mind that your support person is only trying to help you and resist the urge to threaten them with your X-acto blade when they remind you for the tenth time that you really must come and eat. Try to look at it this way; if you don't eat a little something you won't have the strength to continue working on the dollhouse tomorrow. The same thing applies to sleeping so keep that in mind as well.
There are a few more things your support person may need to help you with while you're doing the Dollhouse Diet if you intend to be in The Zone quite a lot. You'll want to ask them in advance to assist with taking the dog for a walk, attending to the needs of children, and answering husbands when they ask, "Are you busy right now?" Sometimes it can be a little difficult for just one person to deflect all those demands away from you so you might need to consider a back up support system to guard your workspace and send those distractions the other way. It helps if that second support system is someone with a bit of an aggressive personality who can effectively deter the most determined distracter. I've found that the cat is especially good at this job.
Second only to dieting is the resolution to exercise more. Good news! There is an exercise program built in to the Dollhouse Diet! In fact, you'll get plenty of exercise while you're building that mini dream house. Let's consider some of the exercises you'll be doing while you're building. There's the bend-and-stretch you'll do most often because you have to lean down and pick up the tiny pieces of trim that are always falling to the floor. Yes, you'll get in lots of reps of that exercise in the course of building a dollhouse, especially during the painting process. (A side effect of this exercise is expanding your vocabulary with the use of creative profanity since the trim always seems to land fresh-paint-side-down.)
Another great exercise is Running-around-looking-for-the-missing-thing-I-just-had-in-my-hand-a-second-ago. I consider this to be an aerobic exercise since it usually involves twisting, turning, lifting, bending, spinning in circles, head scratching, and running from room to room. Don't forget to take deep breaths in between yelling while you're doing this exercise.
Need to work those upper arms? Grab a piece of sandpaper and get ready for some serious reps for those biceps and triceps! Change your grip on the wood from time to time since you want to work those muscles at different angles.
Strength training is a major part of the Dollhouse Diet Workout. Not only will you do quite a bit of weight lifting with those paint cans, but you'll experience some of the best resistance training when you're gluing the dollhouse together and securing it with painter's tape and clamps. The best part of this resistance training is that you get to work your whole body all at once. Wrap those legs around the shell to hold it in place while you pull, pull, pull with one arm and stretch, stretch, stretch with the other to get that tape in place. Even your jaws get a workout when you lean your head over the top of the dollhouse to cut the masking tape with your teeth. Believe me, this is the kind of strength training that people at the gym are never going to get!
Following diet and exercise in popularity is the resolution to get organized. This might be a bit more challenging but for dollhouse builders, it comes with a tremendous amount of motivation! After all, we all want that perfect workspace to optimize our dollhouse building productivity. The more organized we are, the more time we can spend building instead of looking for the lost bottle of glue. So take charge of your space and get it organized! Put your most often used tools close at hand so you can reach them without leaving your chair. Remember that you'll often be holding glued pieces together with one hand while you reach for the clamps with the other and plan your space accordingly. If you can blindly stretch out your hand and pick up the tool you need without looking, then you have the perfect organized workspace! Rolling plastic drawers are the best way of making the most of your space because you can take those necessary tools with you where ever you go. And to make the most of the interior of those drawers, use silverware trays to hold your tools! It keeps them separated and easy to find. No one wants a nasty cut caused by digging thru a jumbled drawer looking for a cutting blade. And since you're spending so much time building a dollhouse it won't really matter if you swipe the tray from the kitchen and leave your silverware drawer in chaos. Plastic bins are also one of your best organizational buddies since they stack easily and are transparent enough to see what's inside without moving them. (Remember, the less time you spend looking for what you need, the more time you can spend on actually building.) Plastic bins come in all sizes so you can use them for everything from small bottles of paint all to storage for scrap wood.
While you're organizing, don't forget to clean out from under all the beds in the house and discard frivolous items like shoes, sweater boxes, and children's toys. That space under the bed is golden for a dollhouse builder because it's just right for storing dollhouse kits. Why, you can even purchase lifters to go under each leg of the bed to give yourself an additional 4" of storage. That's going to double and sometimes triple the amount of space you have for dollhouse kits in the box!
If your New Year's resolution is to learn something new this year, then dollhouse building once again has you covered. There are so many aspects to dollhouses and miniatures that you can easily pick from dozens of new things to learn. Try working with a new scale this year! Stepping outside your scale comfort zone is easy to do and you'll be surprised at how gratifying it is. All your fears of failure will disappear the first time you open a dollhouse kit in a new scale and discover that you have a brand new passion. Friends, last year I made that same resolution myself and now I feel as if I've expanded my mini world by 300%. My comfort zone was in 1:12 and I'm not ashamed to admit that I was afraid to try smaller scales. Yes, I was certain that I would fail miserably and end up burying my attempts in the backyard at midnight with a flashlight clenched between my teeth so no one would know about my failure. But each time I picked up a new 1:48 or 1:24 scale kit the magic happened all over again. The fear of failure immediately transformed into joy and rapture because I had tried something new and succeeded!
Trying new scales is just the tip of the iceberg when it comes to learning new things in miniatures. Experimenting with new techniques is equally gratifying and there are endless choices. You can learn to work with Paperclay to give a new dimension to your structures and architectural features. Paperclay is far less intimidating than it seems and during the first initial attempts you can always scrape off what you don't like and start again. If you've never landscaped a dollhouse, then jump right in and give it a try! Landscaping is a delightful way of becoming a gardener without ever setting foot out the back door. It's easy and fun to do and you'll be just as thrilled with seeing a tulip bed beside your dollhouse porch as you would be if you had planted the real thing in your own front yard. Play around with different styles of houses too. Instead of building another Victorian, try playing with modern styles or even fantasy houses. Fantasy houses (fairies, elves, witches, etc.) are probably the most fun to do when you take the first step away from traditional houses. I'll share a little secret with you—since few people have actually seen a real fairy's house there's no basis for comparison and you can do whatever you want! Your imagination is the only limitation and once you turn your creativity loose you'll be amazed at how talented you are! Even if things don't work out quite the way you want them to, you can always toss your hair back and loftily reply, "I meant for it to look just like that". It's your house dear so you can build it any way you like.
This could also be the perfect year for you to try your hand at kit bashing. If you've never modified a dollhouse kit, you're missing out on so much fun! You don't have to be a super builder or even own a lot of tools to bash a dollhouse kit. The great thing about working in miniature is that if you can visualize it, you can build it.
When it comes to miniatures there are always new things to learn and do. My mini resolution this year is to learn how to use polymer clay to make minis. **gulp** I'm not afraid. Really. Even though I flunked playdough in first grade I'm going to take a deep breath and pick up that clay with confidence! After all, I still have my shovel and a really big backyard if the first few attempts don't come out quite right.
One of my favorite resolutions is when I hear people say that they want to give back to their community and volunteer to help others. On that topic I'm going to set humor aside and say that if you can share the gift of your time and talent with others then you've made the best resolution of all. If you can donate your time, please search out organizations in your area such as community center youth groups or Big Brothers and Big Sisters. Tuck a kit under your arm, toss some glue and paint in your bag, and go share the joy of dollhouse building with a child. Don't worry about converting them to a miniaturist (if they're inclined to do so that will happen automatically). Instead focus your energy on teaching a child the joy of creating. No matter what they do in life, the love of creating something beautiful or watching a project come to life under their hands will stay with them forever. Creative children become creative adults who know how to make positive decisions when faced with choices in life and are able to think outside the box, which strengthens their own sense of individuality. That's the most precious gift you can give to any child. If you have the chance to give that gift, take it.
Please consider the gift of donations of your finished dollhouses as well. Contact local charities to see if they need the donation of a dollhouse for auctions that benefit their causes. You can also donate a dollhouse or two to the local Toys for Tots or other organization that collects holiday gifts for families less fortunate. Or contact your local children's hospital or Shelter for Domestic Violence and donate a dollhouse that will bring some happiness into the life of a child in crisis. This wonderful, wonderful hobby that we love so much can be used to reach out to those in need, so if you can share of your time and talent with others.
From all of us at Greenleaf, we wish you a happy and healthy New Year!