Dear Miniature Enthusiast,
My goodness, but itís been quite awhile since weíve had the opportunity to get together! Itís time to sweep up the dust from our reconstruction and welcome our extended family back to the Gazette. Weíve missed you!! So much in fact, we have a great coupon at the bottom of this email... it's our way of saying thanks for your understanding!

A lot has happened since the last time we got together, including the final results of Spring Fling 2011 and a remodeling of our forum. Itís just been a very exciting year but whatís most exciting of all is having a brand new year right around the corner. We have some new things in store for the Gazette including an advice column, more interviews with contemporary Mini Masters, articles with real life architecture that will inspire you, and of course, lots of helpful how-to articles about building dollhouses and making miniatures to go inside them. Youíll still see our regular features such as the Member of the Month, the Collectorís Cabinet, and lots of eye candy. Weíll also be moving to a new delivery schedule so youíll see the Gazette in your inbox every other month, totaling six issues per year.

All of that begins in January so weíre going to take advantage of this end of the year special edition to wrap up 2011 and talk a little bit about what to expect in 2012. By popular demand, Iím including a rewind of our favorite Dollhouse Christmas Carols and hope youíll all join in the sing-along. Oh, and it wouldnít be the Gazette if we didnít share a tutorial with you so weíve included a killer article showing you how to change those craft store wooden flower pots into faux terra cotta and fill them with houseplants that donít break your budget. Itís a fun little project you can do while youíre waiting for your holiday dinner to cook.

Most of all, weíve come to your inbox to wish each and every one of you the happiest of holidays, the merriest of Christmases, and the very best new year!
Deb Roberts
Editor in Chief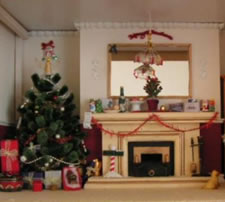 Gazette Rewind: A Greenleaf Sing-a-long!!

By Deb Roberts

This time of year, the sounds of the holidays are everywhere. In the malls, on the streets; no matter where you go, you hear holiday songs. Every third commercial on tv is for a holiday cd and the radio is playing non stop holiday tunes. But how often do you hear a holiday song for us miniaturists? We've come up with some catchy tunes for you to sing this season to express your joy of miniatures during the holidays. Who knows... maybe they'll catch on and next year, everyone will be singing joyous songs about minis!

(blowing a note on a pitch pipe) Ready? Everyone sing along!!

Full story...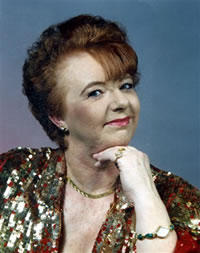 Member of the Month - Meet Claudia (CheckMouse)!

By Heidi Cleveland

This month I would love to introduce you to Claudia (CheckMouse). Claudia has been a member of the Greenleaf forums since April 5, 2009. She works in very small scale which I absolutely love. She also showed me that miniatures can help you cope when something un-copable is there for you to face.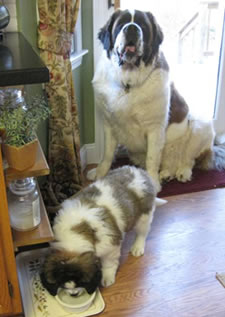 The Critter Corner!

I Have a Mini Me!

However, it appears that Monty may have some mixed feelings about this little replica invading his personal space. He doesnít seem to mind sharing his food with Sally but she has certainly turned his world upside down! Isnít that the way it always works out with miniatures? You just canít help but fall in love with them no matter what form they take.

Thanks to Gil for sharing such a cute picture with us. Monty and Sally will receive a $25 gift certificate from Petsmart for being featured in this month's Critter Corner.

If you'd like to submit your pet's picture for consideration for the Critter Corner, you can upload pictures in the "Good Pets acting bad!" or "Good Pets acting cute!" galleries at the Greenleaf Forum.