December Member of the Month- Meet Claudia (CheckMouse)

By Heidi Cleveland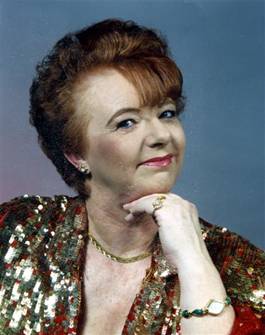 This month I would love to introduce you to Claudia (CheckMouse). Claudia has been a member of the Greenleaf forums since April 5, 2009. She works in very small scale which I absolutely love. She also showed me that miniatures can help you cope when something un-copable is there for you to face.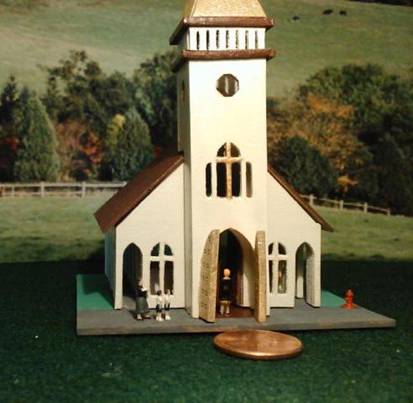 Claudia was born in Washington State but has lived in many places, including eight states and three Latin American countries. She and her husband recently celebrated their 47th wedding anniversary (Congratulations!). They have three children and four grandchildren. Claudia is happy that they are back in her beloved state of Washington and hopefully will stay there. She is currently working as a product demonstrator for a home improvement company, working only in trade shows and County fairs. She thoroughly loves her job.
Claudia says she was always fascinated by "all things tiny" since she was a small child. She feels it started with a very tiny rubber ball that she became very captivated with because it was so small and it bounced. She also had a toy sink for her dolls that could be filled with water and the faucets would dispense the water when you turned the faucets on. Her love of functioning miniatures started early. However, her family moved around a lot in her childhood so she never could have a real dollhouse. Her sink stayed in Washington at her grandparent's house and was eventually discarded. She is still looking to find a replacement!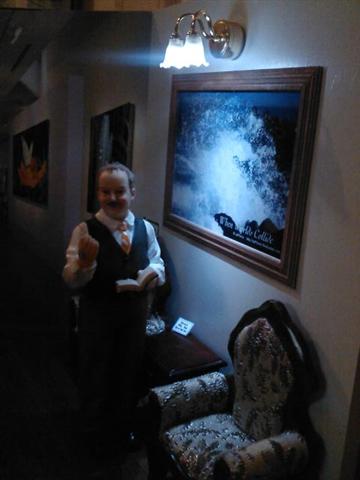 Fast forward to adulthood and the 1980s. That is when Claudia realized that she was not crazy to feel pulled toward miniatures. There was a mini store close to where they lived in Memphis TN and she spent a lot of time there. She subscribed to several magazines and purchased several how-to books. This was before the internet but she knew there were other people out there like her. At the time, their eldest daughter (14yrs) was terminally ill with leukemia (being treated at St. Jude`s Children`s Research Hospital) and she discovered just how therapeutic minis could be. She made several room and shadow boxes at that time. She gave them all away as gifts. She was still unable to keep a full sized dollhouse. So the first actual dollhouse Claudia ever had was purchased at a garage sale about four years ago. An online search to identify it led her to Greenleaf and our marvelous forum.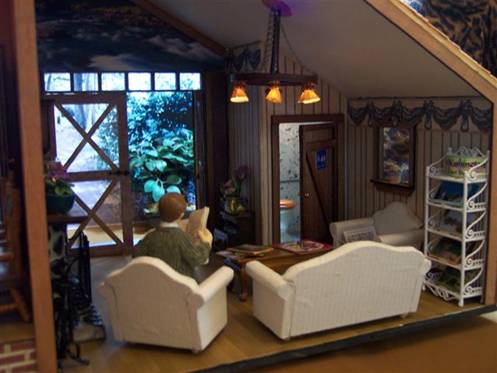 Claudia was inventive when it came to building. She had actually built some unconventional dollhouses before she actually built one from a kit. When she lived in South America, she did not have access to any mini stores so she had to improvise. Claudia made practically everything herself. She was drooling over a lighting fixture in a HBS catalog. Her 12 year old son suggested she could make it using 12 vol motorcycle dashboard lights. She made a bookcase dollhouse with four shelves and she added a roof for an attic. Her second unorthodox house is set in our garden window at their current home in Washington. She daydreamed about the windows she was demonstrating and she thought about a Bistro, an apartment and other living spaces. She eventually turned it into her Garden Bistro, which you can look at here.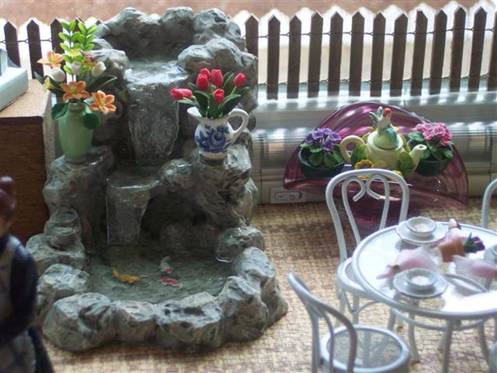 Claudia classifies herself as a decorator first because all of her houses were unconventional. She is not sure what being a collector entails. She never wanted to collect the finished product because for her it was the the joy in making it that she loved. She loves designing it, planning it out, and bashing when necessary. Then seeing it all come together as planned is wonderful. Claudia says she felt very much out of her league when she had her first dollhouse. She had seen so many perfect houses and was convinced she could never be that good. She says she is still far from being *that good* but she is more comfortable with her work now.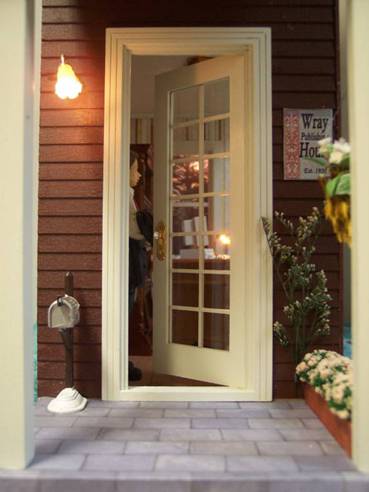 One miniature dream home for Claudia is the Street of Shops collection that HBS has. She also has a Country Victorian that needs to be rehabbed. It is about 80 years old; a Federal Manor (with extensions) that needs to be finished. She would love to meet many of the members of the Greenleaf forums, and she would love to fly over to Hamburg Germany to see the fantastic miniature display they have there. Right now Claudia is working on the Creatin` Contest at HBS. She has also become interested in the Greenleaf birdhouses. She is working on three of them now. Last year, she started working in 1:144 scale and she is on her fourth build and planning on three more. The nice thing about that scale is she can display them inside other full scale houses.
I asked Claudia about which house would she keep above all the rest. Her answer made me laugh so I am going to print it as is here. "I can only think of two scenarios that would necessitate that decision. -1- the terrorists have taken over America and are at my doorstep with machine guns and hand grenades. Or -2- I am being hauled out unconscious, on a stretcher to The Final Nursing Home. In either case, I really wouldn't care anymore about the houses. And until then I will continue to enjoy all of them."
Claudia wants to do more work from scratch. Not just in the building structure, but in the different finishing techniques. She wants to learn the stonework and brickwork from paperclay, real bricks and mortar, and egg cartons. She also wants to improve her skills in lighting dollhouses. She sees so much talent on the Greenleaf forum and she wants to keep learning and improving her skills.
I asked Claudia if she had any advice for all the new members to our miniature tribe. She said : Enjoy it!, keep learning and have fun!
You can check out all of Claudia`s wonderful creation in her Gallery here.
For participating as the Member of the Month, Claudia will receive a $25 gift certificate to the Greenleaf Store.