Terra Cotta Planters and Potted Plants

By Deb Roberts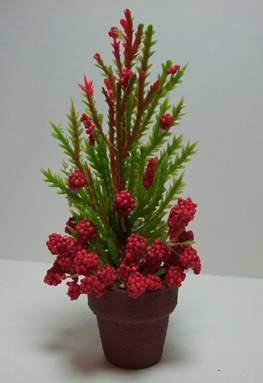 We all love to add flowers to our dollhouses and room boxes but it's a fact that all those mini flowers can add up to a major price tag. One of the requests that I get a lot is about how to fill a house with flowers and potted plants without having to take out a second mortgage on your real house. I spend a lot of time messing around with artificial flowers of the life-size variety to find bits and pieces that work in miniature. Some of them go into pretty vases to make flower arrangements but the thing I like best is potted plants.
This may be a bit of an understatement to those who know me. When I was younger and the earth was still cooling, I lived in a two room apartment that I had filled with 35 individual potted plants. I'm not just talking about little pots with tiny ivy (although I did have some of those)---I mean that I had a Boston Fern that was over 4 feet across and an Asparagus Fern that was bigger than the bathroom sink and Rubber Trees that scraped the ceiling. From the ordinary to the exotic, I love potted plants and think that any home looks best when it has at least a few plants in it. That applies to miniature houses too so let's take a look at how to get the most plant for the least amount of money.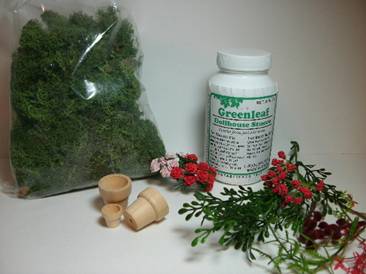 For this project you'll need lichen (which you can find in any floral department), a few wood flower pots that you can find at most craft stores in two different sizes, a jar of Greenleaf Dollhouse Stucco, brick colored paint, and some bits and pieces of artificial greenery and flowers.
This isn't the first time I've talked about finding mini flowers in the life size floral departments in craft stores but I still get a lot of requests for help in finding them. Here's the trick: Get a piece of cardboard or posterboard about 5 inches square. Right in the very center of it cut out a perfect 1 inch square. Stick the piece of cardboard into your wallet and carry it with you everywhere because you just made yourself a perfect 1:12 scale gauge.
When in doubt about whether or not something will work in 1:12 scale, pull out your gauge and hold it over the plant so the flower or leaf you're considering is visible in the hole. If it looks appropriate and proportionate in that hole than it's perfect for 1:12 scale! It's really that easy. (And the reason to carry the gauge everywhere is because it also works for fabric, lace, etc.)
After you've selected a nice variety of greenery and flowers, set them aside for now. The first thing we need to do is convert those wooden flower pots into faux terra cotta. And to do that you need Greenleaf Stucco mix. It's very affordable and one jar will last a long time even tho it has a multitude of uses. This stucco mix is something that I consider to be a staple on my studio shelf. I just counted and there are five jars in my studio and another two jars on my husband's work table because he uses it for his 1:32 scale military dioramas. There may be other things that you can mix with paint to get texture, but trust me, you won't find anything that gives you the perfect mini texture as well as Greenleaf Stucco. I'd say that even if I weren't writing this for the Greenleaf Gazette---it's just that good.
But to get back on task, let's start with a terra cotta color paint. If you can't find paint in the right shade, use brick red and add some drops of brown, orange, and purple; mix in the other colors with tiny drops at a time until you get the perfect terra cotta shade.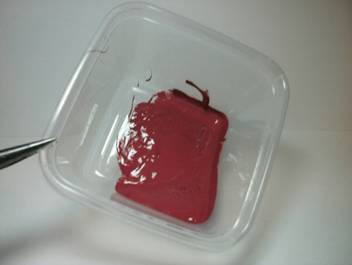 Before we add the stucco, apply a smooth base coat of paint to the inside and outside of all your flower pots.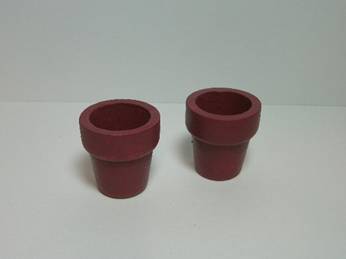 While those are drying start mixing the stucco into the paint. I add about a tablespoon at a time and stir it completely before deciding if it needs more.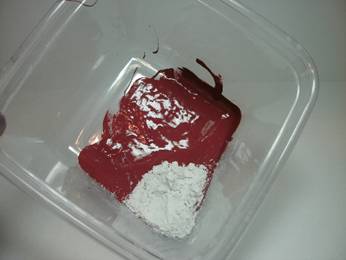 The final texture of your stucco should be like frosting. It should set up just a bit if you pat it with the stir stick. If it's too thin your texturing will fall down as it dries but if it's too thick you'll end up with a pot that looks like it fell into the mashed potatoes.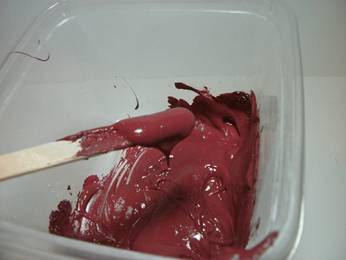 Use a clip of some kind to hold onto the pot and use a stiff bristle brush to dab the stucco onto the pot. Dabbing or tapping the stucco into place is what gives it the perfect texture. For faux terra cotta you'll want to apply it evenly all over the pot.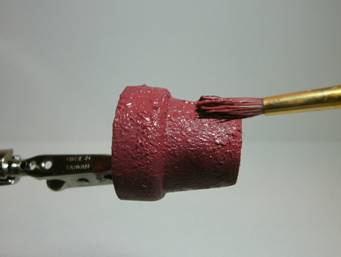 Set the pots aside and let the stucco dry completely. Overnight is best but they'll need to dry for at least 2 or 3 hours. In this picture you can see the difference in sizes of the two pots. These are the sizes most often found in craft stores. Look for them in the section of wood finials, letters, and notions.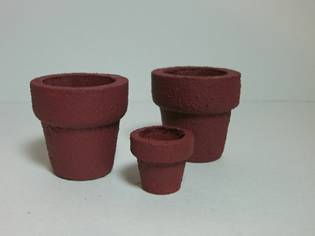 After the stucco has dried, put a little tacky glue around the inside of the pot.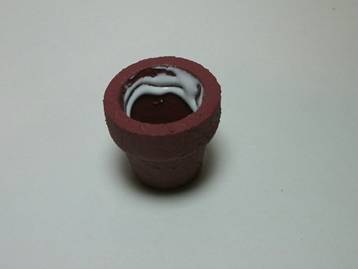 Grab a pinch of lichen and stuff it into the pot. The glue will hold it in place around the edges. The lichen makes an excellent filler for the pot but it also helps hold flower and plant stems in place.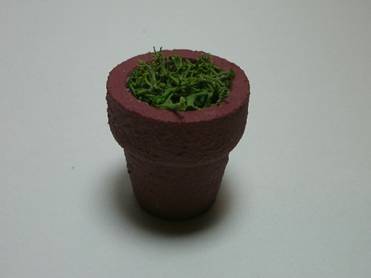 Now for the fun part—adding the flowers! Sometimes you get lucky and you find a plant that is perfect all on its own. All you need to do is cut off a length of it, dip the end in glue, and stuff it into the center of the lichen. Hold it in place long enough for the glue to begin to set and there you are! It's a beautiful floor plant in a terra cotta pot. But we've only just begun!!!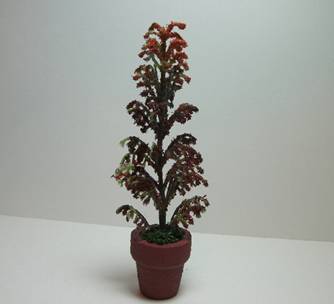 I find plants in some of the oddest places but none are any stranger than prowling around the aquarium section of the local pet and discount stores. But just look at the cool foliage I found this time! The little plastic pieces on the bottom go under the gravel to hold them in place in water but the plants pop right out of them. I was especially delighted to find these with a red tint since I'd already selected some red flowers to use.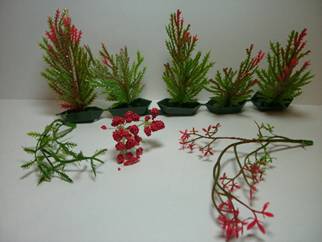 The first thing I did was pull the plant out of the plastic, dip the end in glue, and stick it into the center of the lichen.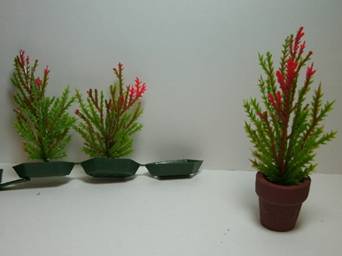 If you've looked at fake flowers in the craft stores you're familiar with the little clusters of Styrofoam beads that have been clumped together and painted. They work nicely for mini flowers (and mini grapes if you find them in purple or green). For this arrangement, I cut off several bunches and glued them into the lichen at the base of the plant.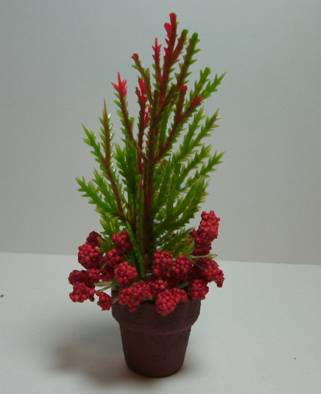 Finally, I cut several more pieces of the little bead clusters and glued them to the leaves all thru the plant. Voila! Flowers!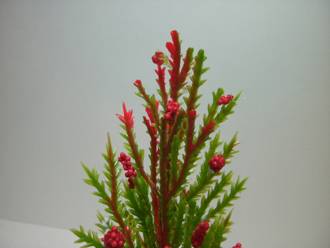 All together, it makes a nice arrangement!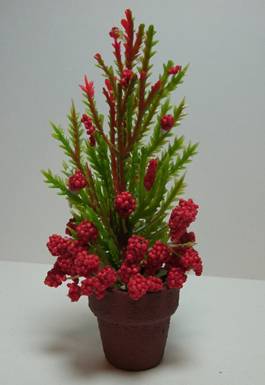 For something a little smaller and a little more fern-like, I found a plant with some thin leaves and cut off a few pieces of it. Another plant has some tiny helicopter leaves that will make pretty flowers so I grabbed that section too.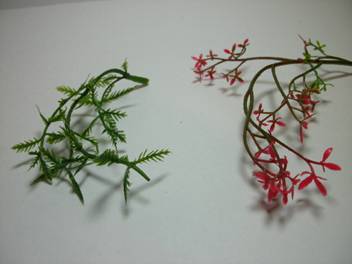 I began with dipping the end of the leaf section into glue and sticking it into the lichen.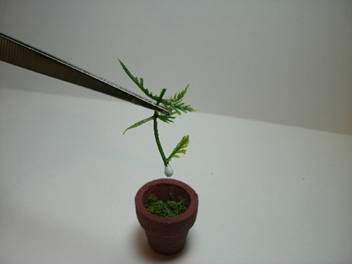 I continued that until I had a nice grouping for my fern.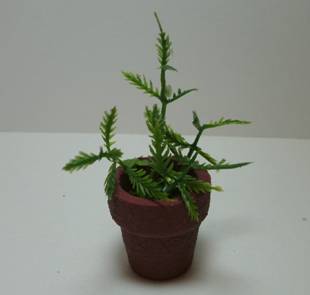 I could stop here and leave it as a pretty little green fern, but I think the red flowers are going to coordinate nicely with these leaves. Using a pair of small, sharp scissors I cut off the tips of the leaves that look like flowers and glued then onto the fern.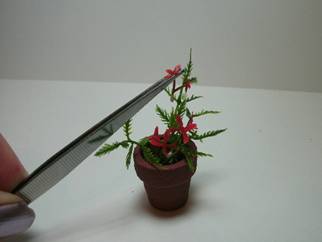 The last bit of foliage that I pulled from my stash box is a piece that will work for either 1:12 or 1:24 scale, depending on how it's displayed. I'm using both sizes of flower pots for this one.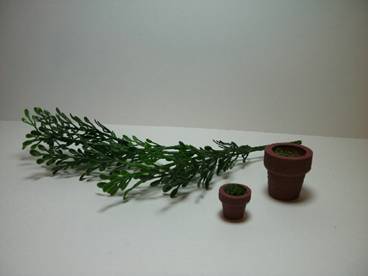 I did the half scale first and it was simple to do. I looked thru the stems of the plant until I found one with an attractive shape that reminded me of a rubber tree. I clipped it off, dipped the end in glue and stuck it down into the lichen.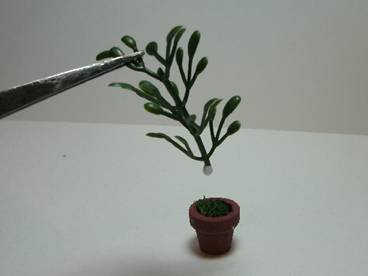 I added a few more individual leaves around the bottom of the plant to fill it out and it makes a very respectable rubber tree plant for 1:24 scale! In 1:12 it would be a table plant, but in half scale, it's a great floor plant.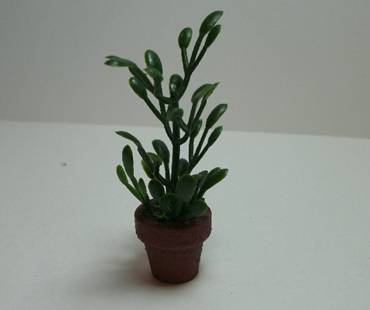 See how nice it looks beside the fireplace in this 1:24 scale furniture grouping? Perfect!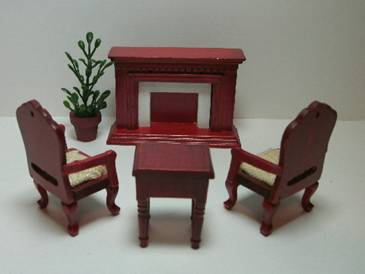 You can see in this picture how well the faux terra cotta planters work for either full or half scale. And with just a bit of practice, you can go on a plant safari at your local craft store and come home with lots of miniature plants at a very affordable price!