Contemporary Miniatures

By Deb Roberts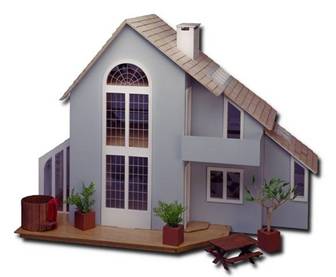 In the world of miniatures, we're familiar with traditional Victorian styles as well as fantasy, rustic, shops, cottages and almost everything in between. However, the modern miniature homes are fewer and further between. With the re-release of the Greenleaf Brookwood Doll House Kit, we've decided to take a look at modern interior design and how that can be translated into the miniature world.
Contemporary décor focuses on a more streamlined and clean style. Crisp lines and open spaces with a minimal of clutter are typical of contemporary décor. While that style can often be perceived as cold and minimal, that doesn't have to be the case. In contemporary décor, furnishings and accents are intended to highlight the space they occupy, as opposed to other types of décor where the contents are the focus instead of the space.
When you begin planning your contemporary décor, consider the space you're working with. Most often, you'll find the space to be subtly sophisticated with simple and clean lines. Lighter colors in these rooms will enhance those lines, but in a larger room, don't be afraid to experiment with bold colors. Natural wood colors are also in keeping with modern design, but keep the lines straight and crisp. Consider adding built in shelving units and sleek architectural features that also put the focus on the space. Geometric shapes add character, and efficient storage such as shelving units and closets are also in keeping with a modern look. In the miniature world, a faux closet or cabinet can be as simple as gluing a small door front to the side of a staircase, or under your bookshelves.
Keep a balance in your colors. If you're using a bold color on the wall, keep the trim and furnishings as neutral and simple in line as possible. If your walls are neutral, step out with some bold and dramatic touches of color in your accessories and furnishings. Modern furnishings tend to be geometric in design with crisp, straight lines and metals such as chrome, brass or steel give a dramatic flair. Upholstered furniture with natural textures, such as coarse woven fabrics or leather, make a dramatic contrast with metal frames. Add a simple accessory such as an empty clear glass bowl to a black coffee table, or a grouping of three candles in varied heights to a shelf, and you'll have an eye catching accent to your room. In modern décor, less is always better so avoid ruffles, fringes, trims, tassels, or patterned upholstery. Even on the floors, bare hardwood might be more effective than scattered throw rugs.
Window treatments are also very minimal such as blinds or a bare window with a simple valance. Remember that the focus in modern décor is as much on the space between the furnishings as on the furnishings themselves, so leave lots of open space on your walls and within the floor plan.
This may sound like a very cold and clinical look, but actually modern décor can be very warm and comfortable. It gives you the opportunity to use bold and dramatic accents and furnishings that make the room exciting and unique!
Of course, contemporary design should be as individual as any other type of décor, so experiment with arrangements and colors that suit your own personality. As with any other miniature house, this modern marvel is your little world and the best décor is the one that fits your own style. The best thing about a contemporary design house is that it is truly a blank slate and opens your creative instincts to a whole new world!
Return to home page...