QUICK PICKS
GREENLEAF FORUM HOT TOPICS
Welcome to the Greenleaf Gazette!

Thoroughly Modern Minis!

January 2008
Dear Miniature Enthusiast,
The hottest news in the miniature world right now is the return of the Greenleaf Brookwood Dollhouse! What a great way to start a new year! The Brookwood is a fantastic, modern style house with a lot of potential. As miniaturists begin working on these kits, we're all anxiously anticipating the many interpretations of this great house. To celebrate the return of the Brookwood, this issue of the Gazette will take a look at modern miniatures and how to accessorize and furnish a contemporary mini home!
Please join us in welcoming Heidi Cleveland to the Gazette crew. Heidi is going to be writing the Member of the Month feature for us. For those of you who know Heidi from the forum, you know that she has an exceptional talent for getting to know people and always asks the right kinds of questions. We're delighted that Heidi has agreed to apply her talents to help us get to know more members of our online family. Welcome Heidi!!
Deb Roberts
Editor in Chief
---

Contemporary Miniatures

By Deb Roberts

In the world of miniatures, we're familiar with traditional Victorian styles as well as fantasy, rustic, shops, cottages and almost everything in between. However, the modern miniature homes are fewer and further between. With the re-release of the Greenleaf Brookwood, we've decided to take a look at modern interior design and how that can be translated into the miniature world.

Full story...
---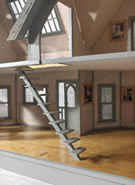 Cantilevered Floating Staircase

By Deb Roberts

A modern house has a lot of potential for architectural enhancements. Staircases are a lot of fun to play with, and a cantilevered floating staircase adds a lot of dramatic flair to a room. It's also a great space saver, since it only occupies a half inch of floor space! Just think of all the mini furnishings you can add into the space you save! Follow along and we'll show you how easy it is to make a floating staircase.

Full story...
---

Modern Miniature Sink

By Deb Roberts

Bowl sinks are all the rage in modern décor, but finding one in miniature may be a bit of a challenge. Easier than finding a miniature bowl sink is to make this quick and easy modern bathroom sink. This is a wall-mounted double sink, but the instructions can easily be adapted for a single sink on a pedestal.

Full story...
---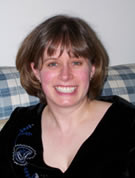 January's Featured Member of the Month - Meet Carrie

By Heidi Cleveland

I would like to introduce you to our January 2008 "Member of the month", CJEP (Carrie). Carrie has been a member of the Greenleaf forums since September 6, 2006. She is a wonderful person and a great miniaturist that we can all aspire to be.
---
January's Quick Tip

From ToScaleHouser

Real life napkin rings which are available in the Housewares section of most stores make terrific and inexpensive miniature floor planters and coffee table bases. Since they come in a multitude of shapes, colors and materials (brass, ceramic, wood, etc.), you're sure to find one that will fit in with your mini decor.

If you would like to submit a Quick Tip to the Greenleaf Gazette, please send an email with your tip to deb@greenleafdollhouses.com and include the words "Quick Tip" in the subject line.
---

The Critter Corner!

"What is thy bidding, my master?"

Poor little Cassie gazes longingly at the stack of house kits just waiting to be built while she lounges on top of Darth Vader. It's an interesting choice of sleeping spots, but it does show that Cassie has very eclectic tastes and can adapt to any situation. However, we're pretty sure she'd rather be sleeping in a dollhouse.

Thank you Doogster for sharing such a great picture of Cassie with us! Cassie will receive a $25 gift certificate from Petsmart for being the January Critter of the Month.

If you'd like to submit your pet's picture for consideration for the Critter Corner, you can upload pictures in the "Good Pets acting bad!" or "Good Pets acting cute!" galleries at the Greenleaf Forum.