Welcome to the Greenleaf Gazette!

Lumpy Beds and Outdoor Sheds!

June 2010
Dear Miniature Enthusiast,
The big news this month is the announcement of the winners of Spring Fling 2010! Congratulations to Otterine for her amazing entry, Baslow Ranch. Not only did Otterine win first place, but true to Greenleaf tradition, she also got to the name the kit. The newest house in the Greenleaf lineup is officially named "Baslow Ranch" and we'll think of Otterine's fabulous entry every time we see it. Congratulations Otterine!

Second place was awarded to Madhatter for her entry, Slug and Jiggers Apothecary and Scrivenshafts Quills and Inks. We're spellbound by her creativity!

The third place winner is Rich T for his Golden Age Gas Station. It's a delightful trip down memory lane!

The competition was fierce this year with so much talent and creativity shown in every entry. Our poor judges will never be the same! If you haven't already done so, visit the Spring Fling 2010 gallery and prepare to be amazed. This is one of the greatest collections of miniature art you'll find anywhere.

This month we have some tutorials for you from a couple of our Spring Fling participants who graciously volunteered to share their expertise with us. Join me in giving a big Thank-You to JoMed and Brae for these exciting tutorials!
Deb Roberts
Editor in Chief
---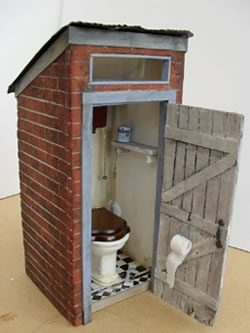 The Outside Toilet

By Jo Med

If you fancy having a go at a small project that can be made using left over supplies and will allow you to practice your aging and distressing skills before applying them to a precious dollhouse kit, then this may be the one for you. This outside toilet is reminiscent of many still to be seen in the north of England dating from the 30ís and 40ís. It has been built entirely from things I already had in my supplies cupboard and my goal was not to buy anything for it. I almost succeeded but I did end up buying door handles Ė everything else I either already had or I made.
---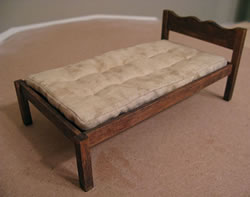 Mattress Construction

By otterine

For my Greenleaf 2010 Spring Fling entry Baslow Ranch, I made a mattress to fit the House of Miniatures single bed. I started with calico cotton fabric that had an old, stained look to it but this method can be used with newer looking fabric as well.
---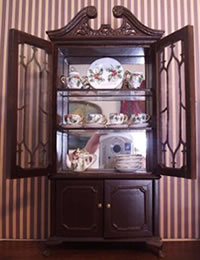 Collector`s Cabinet

By Heidi Cleveland

I would love to introduce you to three very fine miniaturists this month. We are going to see some lovely miniatures from Bluebear (Tracy), Monica the Haunted (Monica), and Shelly N (Shelly).

Full story...
---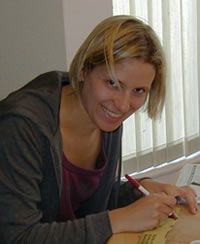 Member of the Month - Meet Emily (Fov)!

By Heidi Cleveland

This month I would love to introduce you to someone a bit special here in the Greenleaf forum, Emily (fov). Emily has been a member of the forum since March 23, 2005.
---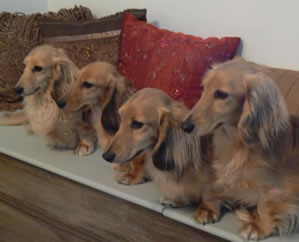 The Critter Corner!

Can we go play now?

When Debora needs a model for a polymer clay miniature puppy, she has plenty close by! Iím not sure how she gets her models to sit still for so long but they certainly deserve a treat after posing for Momís mini sculptures.


Thanks to Debora for sharing such a cute picture with us. Debora and her furbabies will receive a $25 gift certificate from Petsmart for being featured in this monthís Critter Corner.

If you'd like to submit your pet's picture for consideration for the Critter Corner, you can upload pictures in the "Good Pets acting bad!" or "Good Pets acting cute!" galleries at the Greenleaf Forum.