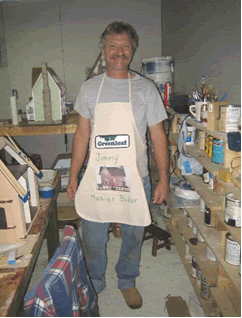 The Greenleaf community is mourning the loss of one of our family, Jimmy Cullen. Jimmy has been a vital part of the Greenleaf community since its inception. Jimmy was a Master Builder, half of the famous 'Linda and Jimmy" building team. While he worked most often behind the scenes, Jimmy's building expertise, his humor and his wisdom were a vital part of Greenleaf. Jimmy and Linda's visits to the Greenleaf offices were always eagerly anticipated and Jimmy offered a great deal of insight about the Greenleaf line. Jimmy's building tips and techniques were highly valued by both the experienced and the novice builders who followed his instructional blogs.

Jimmy was a man of many talents... a builder, a poet, a gentle prankster, an artisan and, most of all, a loving and caring person. When answering the question, 'What makes you smile?', Jimmy's response was 'Knowing my wife loves me as much as I love her.' We mourn the loss of this exceptional man and our thoughts and prayers are with Linda and their family in this time of sorrow.
Back to the July Newsletter...